#9904 Rapamycin
| | | | | |
| --- | --- | --- | --- | --- |
| #9904S | 10 nmol | 13,000 | | |
概要
FRAP/mTOR タンパク質の活性を抑制します
Western Blotting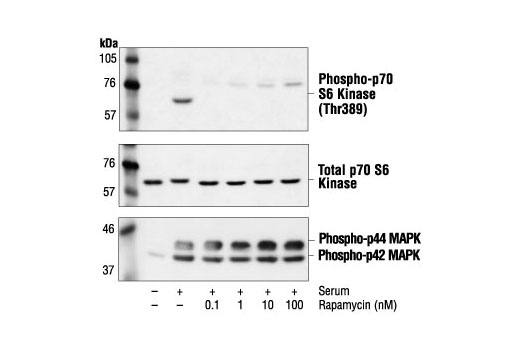 Western blot analysis of extracts from NIH/3T3 cells, untreated or treated with serum in the presence of the indicated concentrations of Rapamycin, using Phospho-p70 S6 Kinase (Thr389) Antibody #9205 (upper), total p70 S6 kinase antibody #9202 (middle) or Phospho-p44/42 MAPK (Thr202/Tyr204) Antibody #9101 (lower).
Structure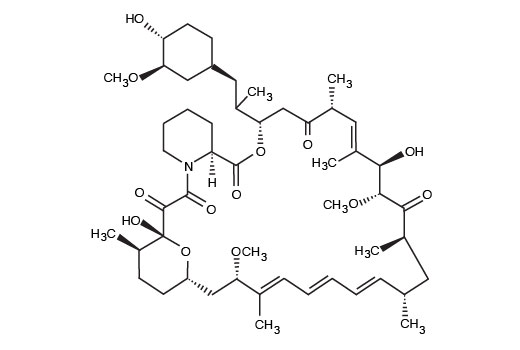 Rapamycin is a bacterial macrolide with antifungal and immunosuppressant activities (1). Rapamycin forms a complex with the immunophilin FKBP12 which then inhibits the activity of FRAP/ mTOR (TOR in yeast) (2,3). Rapamycin treatment of cells leads to the dephosphorylation and inactivation of p70 S6 kinase. Rapamycin also leads to the dephosphorylation of 4E-BP1/PHAS1, thereby promoting its binding to and inactivation of eIF4E (4,5). This activity has been shown to be the basis for Rapamycin's ability to block protein synthesis and to arrest cell cycle progression in the G1-phase (6,7). However, it has been suggested that Rapamycin's inhibition of the G1/S transition may be the consequence of its effect on cyclin D1 mRNA and protein stability (8).
Cell Signaling Technology is a trademark of Cell Signaling Technology, Inc.