#9903 U0126
| | | | | |
| --- | --- | --- | --- | --- |
| #9903S | 5 mg | 24,000 | | |
概要
MEK1 およびMEK2 タンパク質を選択的に抑制します。PD98059 (#9900) に比べ、U0126 はMEK1 タンパク質にはるかに高い親和性を示します。U0126 とPD98059 は相互に排他的な様式でこの酵素に結びつきます。これよりU0126 とPD98059は共通の結合部位を持つことが推測されます。PD98059 はMEK2 タンパク質よりMEK1 タンパク質を強く阻害しますが、U0126 はMEK1 およびMEK2 タンパク質の両方を阻害します。
Western Blotting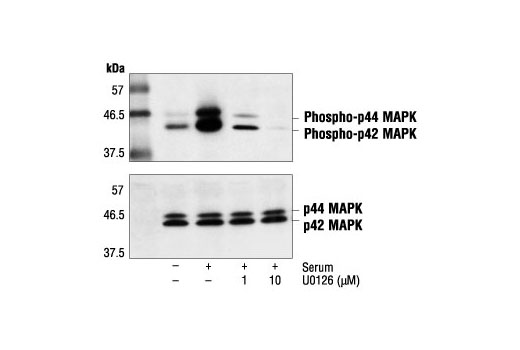 Western blot analysis of extracts from NIH/3T3 cells, using Phospho-p44/42 MAP Kinase (Thr202/Tyr204) Antibody #9101 or control p44/42 MAP Kinase Antibody #9102. NIH/3T3 cells were pretreated with U0126 for 2 hours then treated with 20% serum for 30 minutes.
Structure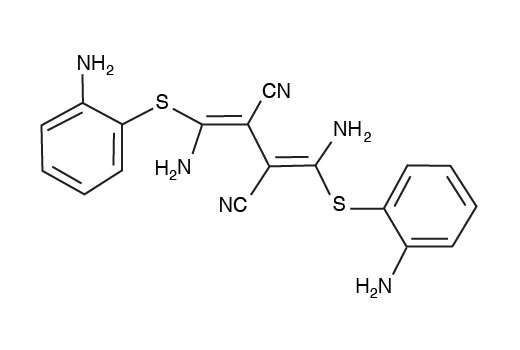 MEK1 and MEK2, also called MAPK or Erk kinases, are dual-specificity protein kinases that function in a mitogen activated protein kinase cascade controlling cell growth and differentiation (1-3). Activation of MEK1 and MEK2 occurs through phosphorylation of two serine residues at positions 217 and 221, located in the activation loop of subdomain VIII, by Raf-like molecules. MEK1/2 is activated by a wide variety of growth factors and cytokines and also by membrane depolarization and calcium influx (1-4). Constitutively active forms of MEK1/2 are sufficient for the transformation of NIH/3T3 cells or the differentiation of PC-12 cells (4). MEK activates p44 and p42 MAP kinase by phosphorylating both threonine and tyrosine residues at sites located within the activation loop of kinase subdomain VIII.
Cell Signaling Technology is a trademark of Cell Signaling Technology, Inc.