#9878 Phospho-Numb (Ser276) (D5C2) Rabbit mAb
| | | | | |
| --- | --- | --- | --- | --- |
| #9878S | 100 μL | 66,000 | | |
感度
分子量 (kDa)
抗体の由来
貯法
内在性
78
Rabbit IgG
-20℃
| 種交差性 (社内試験済) | |
| --- | --- |
| ヒト | マウス、ラット、ニワトリ、アフリカツメガエル、ゼブラフィッシュ、ウシ、ウマ |
ウェスタンブロッティング (1:1000)、免疫蛍光細胞染色 (IF-IC) (1:200)
特異性・感度
内在性レベルのSer276 がリン酸化されたNumb タンパク質を検出します。
使用抗原
ヒトのNumb タンパク質のSer276 周辺領域 (合成リン酸化ペプチド)
ホモロジー (相同性) 検索をご希望の場合 >>>
ホモロジー検索をご要望の際は、ご希望のサンプル種のアミノ酸配列とともにお問合せください。
※下記の社内データは、すべて9878 の推奨プロトコールで実験した結果です。
Western Blotting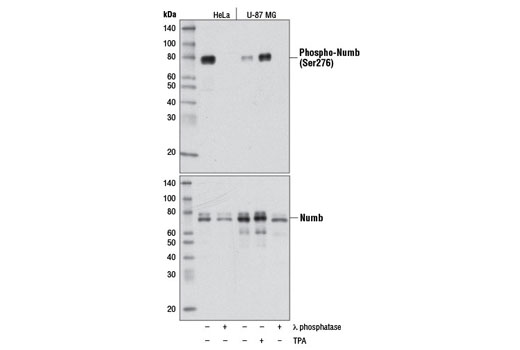 Western blot analysis of extracts from HeLa and U-87 MG cells, untreated or treated with either λ phosphatase or TPA #4174 (200 nM, 30 min), using Phospho-Numb (Ser276) (D5C2) Rabbit mAb (upper) or Numb (C29G11) Rabbit mAb #2756 (lower).
IF-IC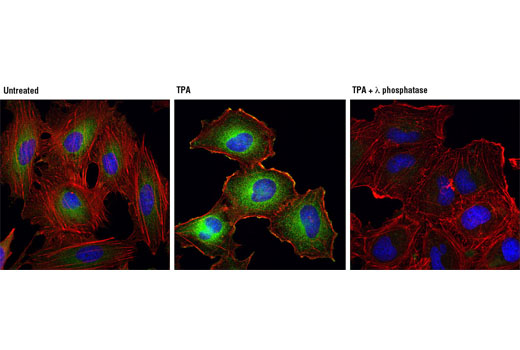 Confocal immunofluorescent analysis of HeLa cells, untreated (left) or treated with either TPA #4174 (center) or TPA and λ phosphatase (right), using Phospho-Numb (Ser276) (D5C2) Rabbit mAb (green). Actin filaments were labeled with DY-554 phalloidin (red). Blue pseudocolor = DRAQ5® #4084 (fluorescent DNA dye).
Numb contains an amino-terminal phosphotyrosine-binding (PTB) domain and carboxy-terminal endocytic binding motifs for α-adaptin and EH (Eps15 homology) domain-containing proteins, indicating a role in endocytosis (1,2). There are four mammalian Numb splicing isoforms that are differentially expressed and may have distinct functions (3-5). Numb acts as a negative regulator of Notch signaling by promoting ubiquitination and degradation of Notch (6). The protein is asymmetrically segregated into one daughter cell during cell division, producing two daughter cells with different responses to Notch signaling and different cell fates (7,8). The localization of Numb can also be regulated by G-protein coupled receptor (GPCR) and PKC signaling (9).
Numb can be phosphorylated at several sites including Ser7, Ser276, and Ser295. Phosphorylation at these sites regulates asymmetric membrane localization of Numb and integrin endocytosis (10-12).
DRAQ5 is a registered trademark of Biostatus Limited.
Cell Signaling Technology is a trademark of Cell Signaling Technology, Inc.