#9753 Di-Methyl-Histone H3 (Lys9) Antibody
CSTコード
包装

希望納入価格 (円)

ご登録代理店情報

カスタマー情報にご登録いただいた代理店を表示しています。

ご登録代理店の変更は

こちら

。

#9753S
100 μL
67,000
#9753L
300 μL
156,000
HISTONE H3 XP®モノクローナル抗体 | HISTONE H3 製品一覧
感度
分子量 (kDa)
抗体の由来
貯法
内在性
17
Rabbit
-20℃
| 種交差性 (社内試験済) | |
| --- | --- |
| ヒト、マウス、ラット、サル、キイロショウジョウバエ | - |
ウェスタンブロッティング (1:1000)、免疫沈降 (1:50)、クロマチン免疫沈降 (1:25)
特異性・感度
内在性レベルのLys9 がジメチル化されたHistone H3 タンパク質を検出します。Lys9 がメチル化されていない、モノメチル化、トリメチル化されたHistone H3 タンパク質とは交差しません。さらに、Lys27 がジメチル化、トリメチル化されたHistone H3 タンパク質とも交差しません。
使用抗原
Lys9 がジメチル化されたHistone H3 タンパク質のN末端領域 (合成ペプチド)
ホモロジー (相同性) 検索をご希望の場合 >>>
ホモロジー検索をご要望の際は、ご希望のサンプル種のアミノ酸配列とともにお問合せください。
※下記の社内データは、すべて9753 の推奨プロトコールで実験した結果です。
Western Blotting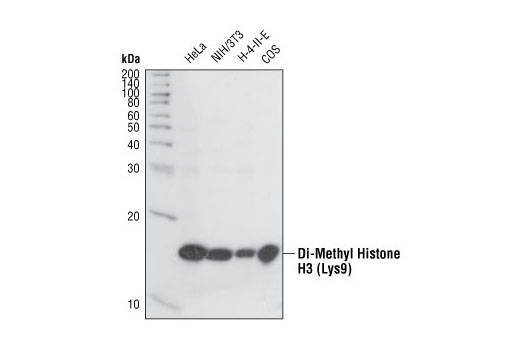 Western blot analysis of whole cell lysates from HeLa, NIH/3T3, H-4-II-E and COS cells, using Di-Methyl-Histone H3 (Lys9) Antibody.
Chromatin IP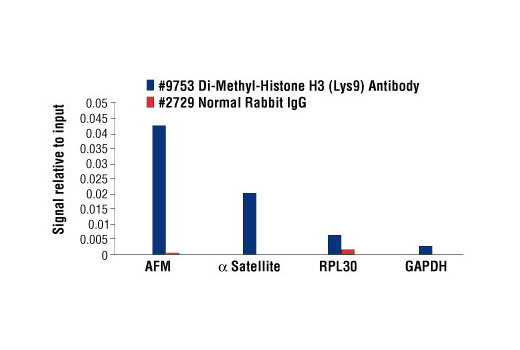 Chromatin immunoprecipitations were performed with cross-linked chromatin from HeLa cells and either Di-Methyl-Histone H3 (Lys9) Antibody or Normal Rabbit IgG #2729, using SimpleChIP® Enzymatic Chromatin IP Kit (Magnetic Beads) #9003. The enriched DNA was quantified by real-time PCR using SimpleChIP® Human AFM Intron 1 Primers #5098, SimpleChIP® Human α Satellite Repeat Primers #4486, SimpleChIP® Human RPL30 Exon 3 Primers #7014, and SimpleChIP® Human GAPDH Exon 1 Primers #5516. The amount of immunoprecipitated DNA in each sample is represented as signal relative to the total amount of input chromatin, which is equivalent to one.
ELISA-Peptide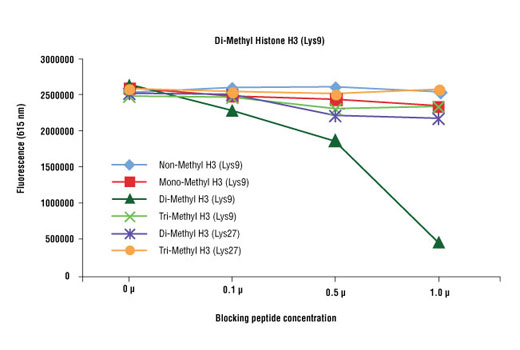 Di-Methyl-Histone H3 (Lys9) Antibody specificity was determined by peptide ELISA. The graph depicts the binding of the antibody to pre-coated di-methyl histone H3 (Lys9) peptide in the presence of increasing concentrations of various competitor peptides. As shown, only the di-methyl histone H3 (Lys9) peptide competed away binding of the antibody.
The nucleosome, made up of four core histone proteins (H2A, H2B, H3, and H4), is the primary building block of chromatin. Originally thought to function as a static scaffold for DNA packaging, histones have now been shown to be dynamic proteins, undergoing multiple types of post-translational modifications, including acetylation, phosphorylation, methylation, and ubiquitination (1). Histone methylation is a major determinant for the formation of active and inactive regions of the genome and is crucial for the proper programming of the genome during development (2,3). Arginine methylation of histones H3 (Arg2, 17, 26) and H4 (Arg3) promotes transcriptional activation and is mediated by a family of protein arginine methyltransferases (PRMTs), including the co-activators PRMT1 and CARM1 (PRMT4) (4). In contrast, a more diverse set of histone lysine methyltransferases has been identified, all but one of which contain a conserved catalytic SET domain originally identified in the Drosophila Su(var)3-9, Enhancer of zeste, and Trithorax proteins. Lysine methylation occurs primarily on histones H3 (Lys4, 9, 27, 36, 79) and H4 (Lys20) and has been implicated in both transcriptional activation and silencing (4). Methylation of these lysine residues coordinates the recruitment of chromatin modifying enzymes containing methyl-lysine binding modules such as chromodomains (HP1, PRC1), PHD fingers (BPTF, ING2), tudor domains (53BP1), and WD-40 domains (WDR5) (5-8). The discovery of histone demethylases such as PADI4, LSD1, JMJD1, JMJD2, and JHDM1 has shown that methylation is a reversible epigenetic marker (9).
Alexa Fluor is a registered trademark of Life Technologies Corporation.
Cell Signaling Technology is a trademark of Cell Signaling Technology, Inc.