#9687 Phospho-ALK (Tyr1282/1283) (D39B2) Rabbit mAb
| | | | | |
| --- | --- | --- | --- | --- |
| #9687S | 100 μL | 66,000 | | |
感度
分子量 (kDa)
抗体の由来
貯法
内在性
80 (NPM-ALK), 220 (ALK)
Rabbit IgG
-20℃
| 種交差性 (社内試験済) | |
| --- | --- |
| ヒト | マウス、ラット、サル |
ウェスタンブロッティング (1:1000)、免疫沈降 (1:100)
特異性・感度
内在性レベルのTyr1282/1283 がリン酸化されたALK タンパク質 (NPM-ALK タンパク質ではTyr342/343) を検出します。EGFR などの他の過剰発現したリン酸化チロシンタンパク質と交差する可能性があります。
使用抗原
ヒトのALK タンパク質のTyr1282/1283 周辺領域 (合成リン酸化ペプチド)
ホモロジー (相同性) 検索をご希望の場合 >>>
ホモロジー検索をご要望の際は、ご希望のサンプル種のアミノ酸配列とともにお問合せください。
※下記の社内データは、すべて9687 の推奨プロトコールで実験した結果です。
Western Blotting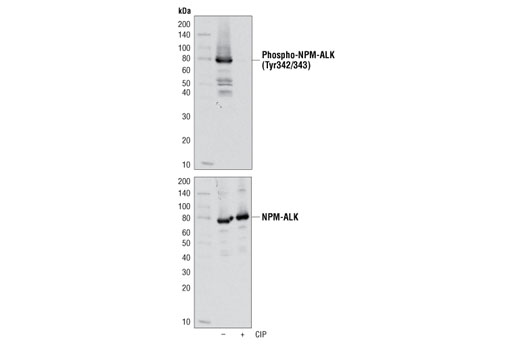 Western blot analysis of extracts from SUP-M2 cells, untreated or treated with calf intestinal phosphatase (CIP), using Phospho-ALK (Tyr1282/1283) (D39B2) Rabbit mAb (upper) or ALK (C26G7) Rabbit mAb #3333 (lower). The lower molecular weight cluster is partial degradation of the ALK fusion.
Anaplastic lymphoma kinase (ALK) is a tyrosine kinase receptor for pleiotrophin (PTN), a growth factor involved in embryonic brain development (1-3). In ALK-expressing cells, PTN induces phosphorylation of both ALK and the downstream effectors IRS-1, Shc, PLCγ, and PI3 kinase (1). ALK was originally discovered as a nucleophosmin (NPM)-ALK fusion protein produced by a translocation (4). Investigators have found that the NPM-ALK fusion protein is a constitutively active, oncogenic tyrosine kinase associated with anaplastic lymphoma (4). Research literature suggests that activation of PLCγ by NPM-ALK may be a crucial step for its mitogenic activity and involved in the pathogenesis of anaplastic lymphomas (5).
A distinct ALK oncogenic fusion protein involving ALK and echinoderm microtubule-associated protein like 4 (EML4) has been described in the research literature from a non-small cell lung cancer (NSCLC) cell line, with corresponding fusion transcripts present in some cases of lung adenocarcinoma. The short, amino-terminal region of the microtubule-associated protein EML4 is fused to the kinase domain of ALK (6-8).
Phosphorylation of ALK at Tyr1282/1283 was identified at Cell Signaling Technology (CST) using PhosphoScan®, CST's LC-MS/MS platform for phosphorylation site discovery. Phosphorylation of ALK at Tyr1282/1283 was observed in select carcinoma cell lines and tumors (6).
Cell Signaling Technology is a trademark of Cell Signaling Technology, Inc.