#9634 Phospho-(Ser/Thr) PDK1 Docking Motif (18A2) Mouse mAb
| | | | | |
| --- | --- | --- | --- | --- |
| #9634S | 100 μL | 67,000 | | |
感度
抗体の由来
貯法
内在性
Mouse IgG2a
-20℃
ウェスタンブロッティング (1:1000)、免疫沈降 (1:50)、ELISA-P (1:1000)
特異性・感度
-1 と+1 の位置にチロシンあるいはフェニルアラニンが存在し、-4 の位置にフェニルアラニンが存在するリン酸化セリン/スレオニンを検出します。-4 の位置にフェニルアラニンの代わりにリジンが存在するペプチドも認識します。リン酸化されていないPDK1 Docking Motif、あるいは他のリン酸化モチーフとは交差しません。リン酸化Akt などの内在性レベルのPDK1 Docking Motif を含むリン酸化タンパク質を検出します。(U.S. Patent No's.: 6,441,140; 6,982,318; 7,259,022; 7,344,714; U.S.S.N. 11,484,485; and all foreign equivalents.)
使用抗原
PDK1 ドッキングモチーフ を含むペプチド
ホモロジー (相同性) 検索をご希望の場合 >>>
ホモロジー検索をご要望の際は、ご希望のサンプル種のアミノ酸配列とともにお問合せください。
モチーフ
F/K)XX(F/Y)(S*/T*)(F/Y)
※下記の社内データは、すべて9634 の推奨プロトコールで実験した結果です。
ELISA-Peptide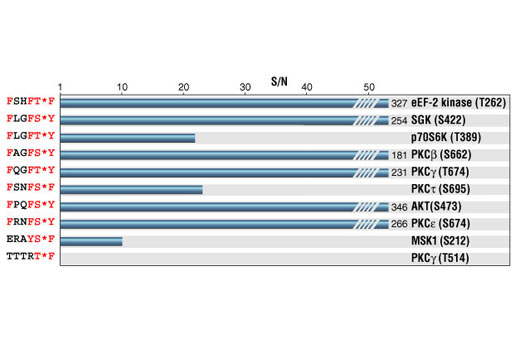 Phospho-(Ser/Thr) PDK1 Docking Motif (18A2) Mouse mAb ELISA Assay: Signal-to-noise ratio of phospho- versus nonphospho-peptides. (T* and S* denote phosphorylated threonine and serine.)
Western Blotting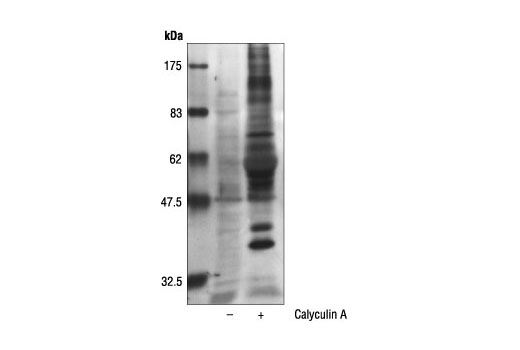 Western blot analysis of extracts from A431 cells, untreated or calyculin A-treated (0.1 µM for 30 minutes prior to lysis), using Phospho-(Ser/Thr) PDK1 Docking Motif (18A2) Mouse mAb.
IP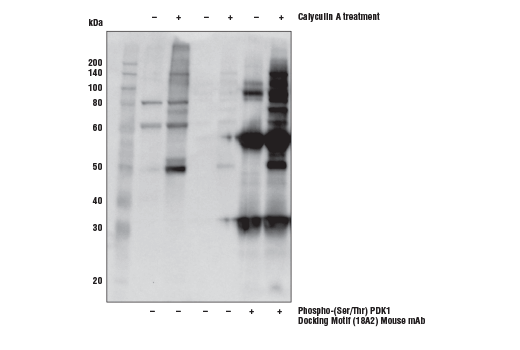 Immunoprecipitation of extracts from Jurkat cells, untreated or treated with 0.1nM Calyculin A for 30 minutes prior to lysis, using Phospho-(Ser/Thr) Docking Motif (18A2) Mouse mAb. Lanes 1 and 2 are 10% input, lanes 3 and 4 are Protein A Agarose Beads #9863 control, and lanes 5 and 6 are Phospho-(Ser/Thr) Docking Motif (18A2) Mouse mAb. Western blot analysis was performed using Phospho-(Ser/Thr) Docking Motif (18A2) Mouse mAb.
A hallmark of signal transduction pathways is the reversible phosphorylation of serine and threonine residues within specific sequences, or motifs, in target proteins. Specific signaling motifs include not only sequences that are recognized by protein kinases (1), but also those that are recognized by phosphorylation-dependent binding proteins such as 14-3-3 (2). These modular phosphoprotein interacting domains are critical elements in modulating, directing and amplifying intracellular communications. CST has pioneered the development of phospho-motif specific antibodies, which are invaluable tools for probing the complexity of phospho-regulatory pathways.
Many critical protein kinases can be regulated by phosphorylation at a specific serine or threonine in a hydrophobic motif (3). For example, Akt, a kinase that regulates cell survival, is activated by phosphorylation at Ser473, a site preceded by Phe at -4 and -1 and followed by Tyr at +1 (4). RSK2, p70 S6 kinase and certain PKC isoforms also contain a similar consensus phosphorylation motif. Phosphorylation of these motifs is required for binding to 3-phosphoinositide-dependent kinase 1 (PDK1) (5-7). Phospho-(Ser/Thr) PDK1 Docking Motif (18A2) Monoclonal Antibody is a powerful tool for the characterization of phosphorylated PDK1 docking motifs and the identification of new proteins with PDK1 docking motifs.
Use of Cell Signaling Technology (CST) Motif Antibodies within certain methods (e.g., U.S. Patents No. 7,198,896 and 7,300,753) may require a license from CST. For information regarding academic licensing terms please have your technology transfer office contact CST Legal Department at CST_ip@cellsignal.com. For information regarding commercial licensing terms please contact CST Pharma Services Department at ptmscan@cellsignal.com.
Cell Signaling Technology is a trademark of Cell Signaling Technology, Inc.