#9606 Phospho-(Ser) 14-3-3 Binding Motif (4E2) Mouse mAb
| | | | | |
| --- | --- | --- | --- | --- |
| #9606S | 100 μL | 67,000 | | |
14-3-3 製品一覧 | Motif 抗体比較 | #9606 が入っているAntibody Sampler キット一覧
感度
抗体の由来
貯法
内在性
Mouse IgG1
-20℃
ウェスタンブロッティング (1:4000)、免疫沈降 (1:20)、ELISA-P (1:1000)
特異性・感度
+2 の位置にプロリン、-3 の位置にアルギニンかリジンが存在するリン酸化セリンを検出します。
使用抗原
14-3-3-binding-motif を含むペプチド
ホモロジー (相同性) 検索をご希望の場合 >>>
ホモロジー検索をご要望の際は、ご希望のサンプル種のアミノ酸配列とともにお問合せください。
※下記の社内データは、すべて9606 の推奨プロトコールで実験した結果です。
ELISA-Peptide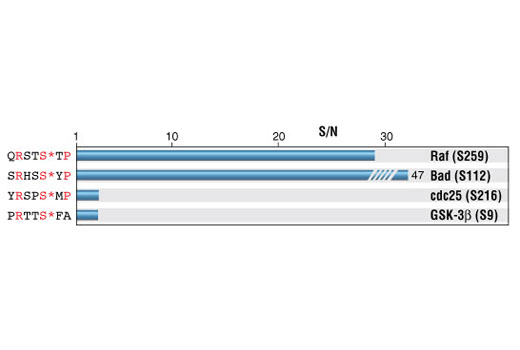 Phospho-(Ser) 14-3-3 Binding Motif (4E2) Mouse mAb ELISA assay: Signal-to-noise ratio of phospho- versus nonphospho-14-3-3 binding motif peptides. (S* denotes phosphorylated serine.)
Western Blotting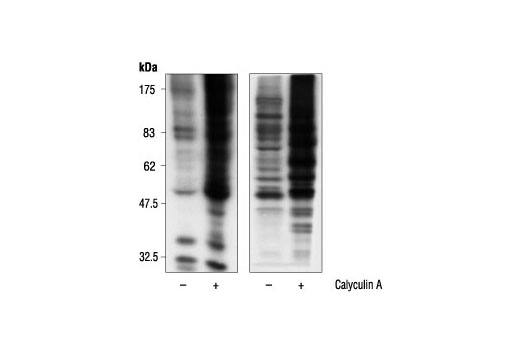 Western blot analysis of extracts from A431 cells, untreated or calyculin A-treated, using Phospho-(Ser) 14-3-3 Binding Motif (4E2) Mouse mAb (left) or Phospho-(Ser) 14-3-3 Binding Motif Antibody #9601 (right).
The 14-3-3 proteins are a highly conserved family of proteins involved in the regulation of cell survival, apoptosis, proliferation and checkpoint control (1-5). Biological regulation by 14-3-3 is mediated through phosphorylation-dependent protein-protein interactions (6). Two different phospho-Ser-containing motifs are found within nearly all known 14-3-3 binding proteins (7). Motif 1 (Arg/Lys and Ser at positions -3 and -2, phospho-Ser at position 0, and Pro at position +2) is found in critical regulatory proteins including Bad, cdc25C, FKHRL1, PKC and c-Raf (5,7). Phospho-(Ser) 14-3-3 Binding Motif Polyclonal and (4E2) Monoclonal Antibodies provide powerful tools for the discovery and characterization of potential 14-3-3 binding proteins containing this motif and for high throughput drug discovery.
Use of Cell Signaling Technology (CST) Motif Antibodies within certain methods (e.g., U.S. Patents No. 7,198,896 and 7,300,753) may require a license from CST. For information regarding academic licensing terms please have your technology transfer office contact CST Legal Department at CST_ip@cellsignal.com. For information regarding commercial licensing terms please contact CST Pharma Services Department at ptmscan@cellsignal.com.
Cell Signaling Technology is a trademark of Cell Signaling Technology, Inc.