#9520 Phospho-Smad3 (Ser423/425) (C25A9) Rabbit mAb
CSTコード
包装

希望納入価格 (円)

ご登録代理店情報

カスタマー情報にご登録いただいた代理店を表示しています。

ご登録代理店の変更は

こちら

。

#9520S
100 μL
66,000
#9520T
20 μL
39,000


Custom Antibody Sampler Kitの構成品を選択できます。
5本以上を選択し、ページ右上のCartから製品確定書を発行してください。
尚、構成品の単品販売は致しておりません。
SMAD3 製品一覧 | #9520 が入っているAntibody Sampler キット一覧
感度
分子量 (kDa)
抗体の由来
貯法
内在性
52
Rabbit IgG
-20℃
| 種交差性 (社内試験済) | |
| --- | --- |
| ヒト、マウス、ラット | サル、アフリカツメガエル、ゼブラフィッシュ、ウシ |
ウェスタンブロッティング (1:1000)、免疫沈降 (1:50)、クロマチン免疫沈降 (1:100)
特異性・感度
内在性レベルのSer423/425 がリン酸化されたSmad3 タンパク質を検出します。他のファミリータンパク質とは交差しません。
使用抗原
Smad3 タンパク質のSer423/425 周辺領域 (合成リン酸化ペプチド)
ホモロジー (相同性) 検索をご希望の場合 >>>
ホモロジー検索をご要望の際は、ご希望のサンプル種のアミノ酸配列とともにお問合せください。
※下記の社内データは、すべて9520 の推奨プロトコールで実験した結果です。
Western Blotting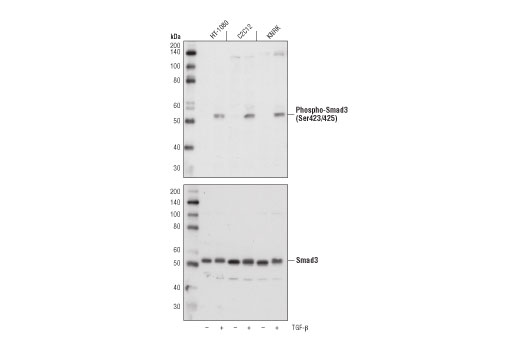 Western blot analysis of extracts from HT-1080, C2C12, or KNRK cells, untreated (-) or treated with TGF-β (10 ng/ml, 30 min; +), using Phospho-Smad3 (Ser423/425) (C25A9) Rabbit mAb (upper) or total Smad3 (C67H9) Rabbit mAb #9523 (lower).
Chromatin IP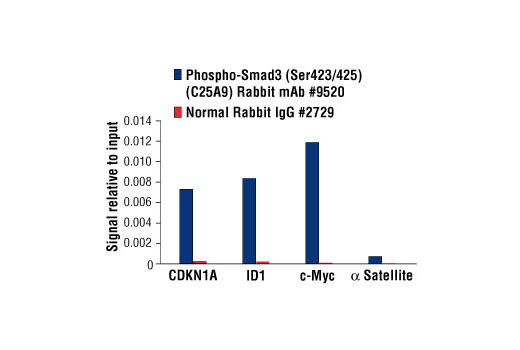 Chromatin immunoprecipitations were performed with cross-linked chromatin from HaCaT cells treated with Human TGF-β3 #3706 (7 ng/ml) for 1 h and either Phospho-Smad3 (Ser423/425) (C25A9) Rabbit mAb or Normal Rabbit IgG #2729 using SimpleChIP® Enzymatic Chromatin IP Kit (Magnetic Beads) #9003. The enriched DNA was quantified by real-time PCR using SimpleChIP® Human CDKN1A Intron 1 Primers #4669, SimpleChIP® Human ID1 Promoter Primers #5139, human c-Myc intron 1 primers, and SimpleChIP® Human α Satellite Repeat Primers #4486. The amount of immunoprecipitated DNA in each sample is represented as signal relative to the total amount of input chromatin, which is equivalent to one.
Members of the Smad family of signal transduction molecules are components of a critical intracellular pathway that transmit TGF-β signals from the cell surface into the nucleus. Three distinct classes of Smads have been defined: the receptor-regulated Smads (R-Smads), which include Smad1, 2, 3, 5, and 8; the common-mediator Smad (co-Smad), Smad4; and the antagonistic or inhibitory Smads (I-Smads), Smad6 and 7 (1-5). Activated type I receptors associate with specific R-Smads and phosphorylate them on a conserved carboxy terminal SSXS motif. The phosphorylated R-Smad dissociates from the receptor and forms a heteromeric complex with the co-Smad (Smad4), allowing translocation of the complex to the nucleus. Once in the nucleus, Smads can target a variety of DNA binding proteins to regulate transcriptional responses (6-8).
Following stimulation by TGF-β, Smad2 and Smad3 become phosphorylated at carboxyl terminal serine residues (Ser465 and 467 on Smad2; Ser423 and 425 on Smad3) by TGF-β Receptor I. Phosphorylated Smad 2/3 can complex with Smad4 and translocate to the nucleus to regulate gene expression (9-11).
Cell Signaling Technology is a trademark of Cell Signaling Technology, Inc.
U.S. Patent No. 7,429,487, foreign equivalents, and child patents deriving therefrom.