#9421 Phospho-c-Raf (Ser259) Antibody
CSTコード
包装

希望納入価格 (円)

ご登録代理店情報

カスタマー情報にご登録いただいた代理店を表示しています。

ご登録代理店の変更は

こちら

。

#9421S
100 μL
66,000
#9421T
20 μL
39,000


Custom Antibody Sampler Kitの構成品を選択できます。
5本以上を選択し、ページ右上のCartから製品確定書を発行してください。
尚、構成品の単品販売は致しておりません。
RAFC 製品一覧 | #9421 が入っているAntibody Sampler キット一覧
感度
分子量 (kDa)
抗体の由来
貯法
内在性
74
Rabbit
-20℃
| 種交差性 (社内試験済) | |
| --- | --- |
| ヒト、マウス、ラット、サル、アフリカツメガエル | ニワトリ |
ウェスタンブロッティング (1:1000)、免疫沈降 (1:50)
特異性・感度
内在性レベルのSer259 がリン酸化されたc-Raf タンパク質を検出します。
使用抗原
ヒトのc-Raf タンパク質のSer259 周辺領域 (合成ペプチド)
ホモロジー (相同性) 検索をご希望の場合 >>>
ホモロジー検索をご要望の際は、ご希望のサンプル種のアミノ酸配列とともにお問合せください。
※下記の社内データは、すべて9421 の推奨プロトコールで実験した結果です。
Western Blotting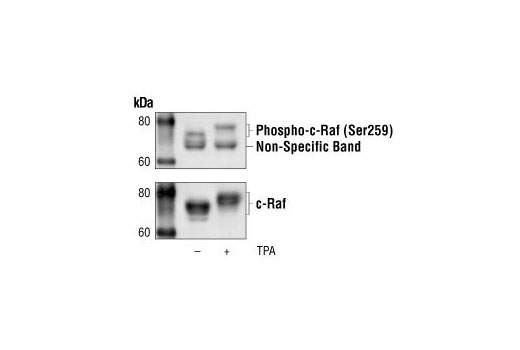 Western blot analysis of extracts from HeLa cells, untreated or TPA-treated, using Phospho-c-Raf (Ser259) Antibody (upper), or a total c-Raf antibody (lower).
Western Blotting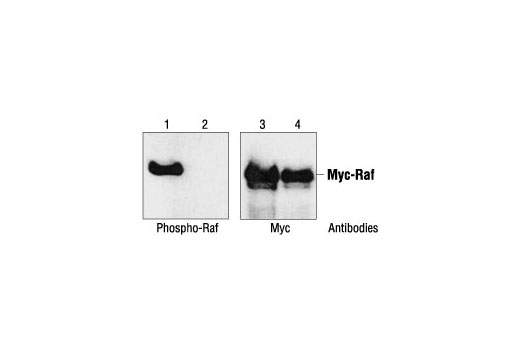 Site specificity of Phospho-c-Raf (Ser259) Antibody: Western blot analysis of recombinant Myc-tagged c-Raf protein, wild-type (lanes 1 and 3) and S259A mutant (lanes 2 and 4), using Phospho-Raf (Ser259) Antibody or a Myc antibody. (Provided by Dr. Guri Tzivion, Massachusetts General Hospital.)
A-Raf, B-Raf, and c-Raf (Raf-1) are the main effectors recruited by GTP-bound Ras to activate the MEK-MAP kinase pathway (1). Activation of c-Raf is the best understood and involves phosphorylation at multiple activating sites including Ser338, Tyr341, Thr491, Ser494, Ser497, and Ser499 (2). p21-activated protein kinase (PAK) has been shown to phosphorylate c-Raf at Ser338, and the Src family phosphorylates Tyr341 to induce c-Raf activity (3,4). Ser338 of c-Raf corresponds to similar sites in A-Raf (Ser299) and B-Raf (Ser445), although this site is constitutively phosphorylated in B-Raf (5). Inhibitory 14-3-3 binding sites on c-Raf (Ser259 and Ser621) can be phosphorylated by Akt and AMPK, respectively (6,7). While A-Raf, B-Raf, and c-Raf are similar in sequence and function, differential regulation has been observed (8). Of particular interest, B-Raf contains three consensus Akt phosphorylation sites (Ser364, Ser428, and Thr439) and lacks a site equivalent to Tyr341 of c-Raf (8,9). Research studies have shown that the B-Raf mutation V600E results in elevated kinase activity and is commonly found in malignant melanoma (10). Six residues of c-Raf (Ser29, Ser43, Ser289, Ser296, Ser301, and Ser642) become hyperphosphorylated in a manner consistent with c-Raf inactivation. The hyperphosphorylation of these six sites is dependent on downstream MEK signaling and renders c-Raf unresponsive to subsequent activation events (11).
Cell Signaling Technology is a trademark of Cell Signaling Technology, Inc.