#9386 Phospho-Threonine (42H4) Mouse mAb
CSTコード
包装

希望納入価格 (円)

ご登録代理店情報

カスタマー情報にご登録いただいた代理店を表示しています。

ご登録代理店の変更は

こちら

。

#9386S
100 μL
57,000
#9386T
20 μL
39,000


Custom Antibody Sampler Kitの構成品を選択できます。
5本以上を選択し、ページ右上のCartから製品確定書を発行してください。
尚、構成品の単品販売は致しておりません。
感度
抗体の由来
貯法
内在性
Mouse IgM
-20℃
ウェスタンブロッティング (1:1000)、免疫沈降 (1:50)、ELISA-P (1:2000)
特異性・感度
周囲のアミノ酸配列にほとんど依存せず、リン酸化スレオニンと結合します。リン酸化特異的ですがリン酸化チロシンを含む配列には交差しません。いくつかのリン酸化セリンを含むペプチドと若干の交差性が見られます。ELISAで広範のスレオニンリン酸化ペプチドを検出します。(U.S. Patent No's.: 6,441,140; 6,982,318; 7,259,022; 7,344,714; U.S.S.N. 11,484,485; and all foreign equivalents.)
ホモロジー (相同性) 検索をご希望の場合 >>>
ホモロジー検索をご要望の際は、ご希望のサンプル種のアミノ酸配列とともにお問合せください。
※下記の社内データは、すべて9386 の推奨プロトコールで実験した結果です。
ELISA-Peptide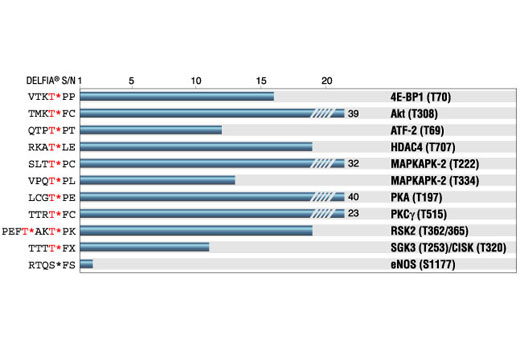 Phospho-Threonine (42H4) Mouse mAb ELISA Assay: Signal-to-noise ratio of phospho- versus nonphospho-peptides. (T* denotes phosphorylated threonine.)
Western Blotting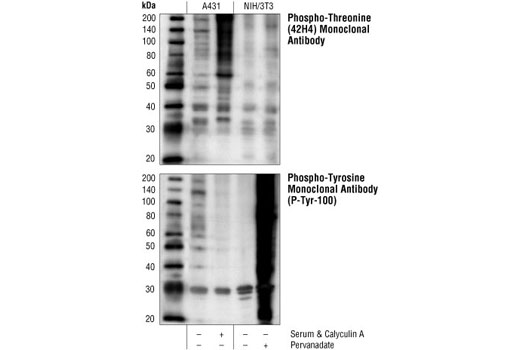 Western blot analysis of extracts from A431 cells, untreated or treated with calyculin A, a threonine phosphatase inhibitor, or extracts from NIH/3T3 cells, untreated or treated with pervanadate, a tyrosine phosphatase inhibitor, using Phospho-Threonine (42H4) Mouse mAb (upper) or Phospho-Tyrosine Monoclonal Antibody (P-Tyr-100) #9411 (lower).
Much of the dynamic behavior of cellular proteins, including the regulation of molecular interactions (1), subcellular localization (2), and transcriptional regulation (3) is controlled by a variety of post-translational modifications (4). Antibodies specific for these post-translational modifications are invaluable tools in the quest to understand normal and pathogenic molecular and cellular behavior.
General protein modification antibodies are designed to react with modified amino acid residues (e.g. phospho-threonine, phospho-tyrosine, acetyl-lysine, nitro-tyrosine) independently of the sequence in which they are embedded. This ability to recognize modified residues in a "context-independent" fashion gives these antibodies broad reactivities, presumably conferring upon them the ability to react with hundreds of distinct proteins. This broad pattern of reactivity makes these antibodies especially valuable in multiplex analyses and target discovery programs.
Protein kinases are among the most abundant eukaryotic regulatory proteins; over 500 separate kinase genes are encoded in mammalian genomes (5,6). In spite of the importance of kinases in eukaryotic biology, relatively few of their physiological targets are known. Phospho-Threonine Antibody (P-Thr-Polyclonal) #9381 and Phospho-Threonine (42H4) Monoclonal Antibody #9386 provide powerful tools for discovering targets of serine/threonine kinases, for monitoring and characterizing in vitro threonine phosphorylation reactions as well as for high throughput Ser/Thr kinase drug discovery.
Use of Cell Signaling Technology (CST) Motif Antibodies within certain methods (e.g., U.S. Patents No. 7,198,896 and 7,300,753) may require a license from CST. For information regarding academic licensing terms please have your technology transfer office contact CST Legal Department at CST_ip@cellsignal.com. For information regarding commercial licensing terms please contact CST Pharma Services Department at ptmscan@cellsignal.com.
Cell Signaling Technology is a trademark of Cell Signaling Technology, Inc.