#9206 Phospho-p70 S6 Kinase (Thr389) (1A5) Mouse mAb
CSTコード
包装

希望納入価格 (円)

ご登録代理店情報

カスタマー情報にご登録いただいた代理店を表示しています。

ご登録代理店の変更は

こちら

。

#9206S
100 μL
67,000
#9206L
300 μL
156,000
感度
分子量 (kDa)
抗体の由来
貯法
内在性
70, 85
Mouse IgG2a
-20℃
| 種交差性 (社内試験済) | |
| --- | --- |
| ヒト、マウス、ラット、サル、キイロショウジョウバエ | - |
特異性・感度
内在性レベルのThr389 がリン酸化されたp70 S6 Kinase を検出します。類似の部位のThr412 がリン酸化されたp85 S6 Kinase とThr401 がリン酸化されたS6KII タンパク質も検出する可能性があります。
使用抗原
ヒトのp70 S6 Kinase のThr389 周辺領域 (合成リン酸化ペプチド)
ホモロジー (相同性) 検索をご希望の場合 >>>
ホモロジー検索をご要望の際は、ご希望のサンプル種のアミノ酸配列とともにお問合せください。
※下記の社内データは、すべて9206 の推奨プロトコールで実験した結果です。
Western Blotting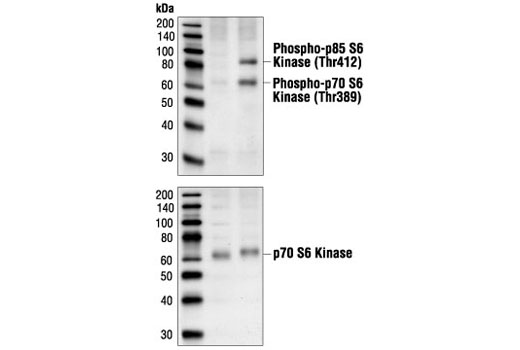 Western blot analysis of extracts from NIH/3T3 cells, serum-starved or serum-treated (20%) using Phospho-p70 S6 Kinase (Thr389) (1A5) Mouse mAb (upper) and p70 S6 Kinase Antibody #9202 (lower).
p70 S6 kinase is a mitogen activated Ser/Thr protein kinase that is required for cell growth and G1 cell cycle progression (1,2). p70 S6 kinase phosphorylates the S6 protein of the 40S ribosomal subunit and is involved in translational control of 5' oligopyrimidine tract mRNAs (1). A second isoform, p85 S6 kinase, is derived from the same gene and is identical to p70 S6 kinase except for 23 extra residues at the amino terminus, which encode a nuclear localizing signal (1). Both isoforms lie on a mitogen activated signaling pathway downstream of phosphoinositide-3 kinase (PI-3K) and the target of rapamycin, FRAP/mTOR, a pathway distinct from the Ras/MAP kinase cascade (1). The activity of p70 S6 kinase is controlled by multiple phosphorylation events located within the catalytic, linker and pseudosubstrate domains (1). Phosphorylation of Thr229 in the catalytic domain and Thr389 in the linker domain are most critical for kinase function (1). Phosphorylation of Thr389, however, most closely correlates with p70 kinase activity in vivo (3). Prior phosphorylation of Thr389 is required for the action of phosphoinositide 3-dependent protein kinase 1 (PDK1) on Thr229 (4,5). Phosphorylation of this site is stimulated by growth factors such as insulin, EGF and FGF, as well as by serum and some G-protein-coupled receptor ligands, and is blocked by wortmannin, LY294002 (PI-3K inhibitor) and rapamycin (FRAP/mTOR inhibitor) (1,6,7). Ser411, Thr421 and Ser424 lie within a Ser-Pro-rich region located in the pseudosubstrate region (1). Phosphorylation at these sites is thought to activate p70 S6 kinase via relief of pseudosubstrate suppression (1,2). Another LY294002 and rapamycin sensitive phosphorylation site, Ser371, is an in vitro substrate for mTOR and correlates well with the activity of a partially rapamycin resistant mutant p70 S6 kinase (8).
Cell Signaling Technology is a trademark of Cell Signaling Technology, Inc.