#9108 p42 MAP Kinase (Erk2) Antibody
| | | | | |
| --- | --- | --- | --- | --- |
| #9108S | 100 μL | 58,000 | | |
ERK2 製品一覧 | p44/42 MAPK (Erk 1/2) 抗体比較
感度
分子量 (kDa)
抗体の由来
貯法
内在性
42
Rabbit
-20℃
| 種交差性 (社内試験済) | |
| --- | --- |
| ヒト、マウス、ラット、サル | - |
特異性・感度
内在性レベルのp42 MAP Kinase (Erk2) タンパク質を検出します。p44 MAP Kinase (Erk1)、p38 MAP Kinase およびSAPK/JNK タンパク質とは交差しません。
使用抗原
ヒトのp42 MAP Kinase タンパク質 (合成ペプチド)
ホモロジー (相同性) 検索をご希望の場合 >>>
ホモロジー検索をご要望の際は、ご希望のサンプル種のアミノ酸配列とともにお問合せください。
※下記の社内データは、すべて9108 の推奨プロトコールで実験した結果です。
Western Blotting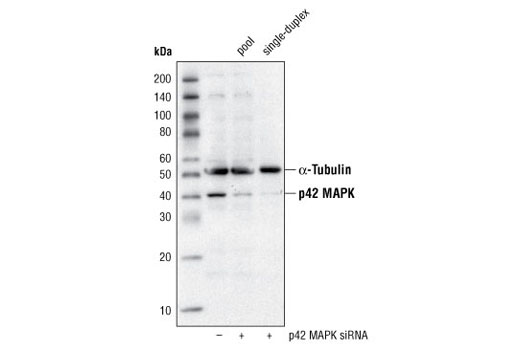 Western blot analysis of extracts from HeLa cells, transfected with 100 nM SignalSilence® Control siRNA (Fluorescein Conjugate) #6201 (-) or SignalSilence® Pool p42 MAPK siRNA or single-duplex SignalSilence® p42 MAPK siRNA (+), using p42 MAP Kinase (Erk2) Antibody #9108 and α-Tubulin (11H10) Rabbit mAb #2125. The p42 MAP Kinase (Erk2) Antibody confirms silencing of p42 expression and α-Tubulin (11H10) Rabbit mAb is used to control for loading and specificity of p42 siRNA.
Mitogen-activated protein kinases (MAPKs) are a widely conserved family of serine/threonine protein kinases involved in many cellular programs, such as cell proliferation, differentiation, motility, and death. The p44/42 MAPK (Erk1/2) signaling pathway can be activated in response to a diverse range of extracellular stimuli including mitogens, growth factors, and cytokines (1-3), and research investigators consider it an important target in the diagnosis and treatment of cancer (4). Upon stimulation, a sequential three-part protein kinase cascade is initiated, consisting of a MAP kinase kinase kinase (MAPKKK or MAP3K), a MAP kinase kinase (MAPKK or MAP2K), and a MAP kinase (MAPK). Multiple p44/42 MAP3Ks have been identified, including members of the Raf family, as well as Mos and Tpl2/COT. MEK1 and MEK2 are the primary MAPKKs in this pathway (5,6). MEK1 and MEK2 activate p44 and p42 through phosphorylation of activation loop residues Thr202/Tyr204 and Thr185/Tyr187, respectively. Several downstream targets of p44/42 have been identified, including p90RSK (7) and the transcription factor Elk-1 (8,9). p44/42 are negatively regulated by a family of dual-specificity (Thr/Tyr) MAPK phosphatases, known as DUSPs or MKPs (10), along with MEK inhibitors, such as U0126 and PD98059.
Cell Signaling Technology is a trademark of Cell Signaling Technology, Inc.