#9102 p44/42 MAPK (Erk1/2) Antibody
CSTコード
包装

希望納入価格 (円)

ご登録代理店情報

カスタマー情報にご登録いただいた代理店を表示しています。

ご登録代理店の変更は

こちら

。

#9102S
200 μL
58,000
#9102L
600 μL
135,000
ERK1/ERK2 製品一覧 | p44/42 MAPK (Erk 1/2) 抗体比較
感度
分子量 (kDa)
抗体の由来
貯法
内在性
42, 44
Rabbit
-20℃
| 種交差性 (社内試験済) | |
| --- | --- |
| ヒト、マウス、ラット、ハムスター、サル、ミンク、ゼブラフィッシュ、ウシ、ブタ、出芽酵母 | - |
ウェスタンブロッティング (1:1000)、免疫沈降 (1:50)、免疫組織染色 (パラフィン) (1:100)
下記ステップについては、データシートの右側もあわせてご参照ください。
IHC-P: 抗体希釈液 / 抗原賦活化
特異性・感度
内在性レベルのp44/42 MAPK (Erk1/Erk2) タンパク質を検出します。ある種の細胞ではp42 MAPK よりp44 MAPK に強く反応します。この抗体はJNK/SAPK やp38 MAPK は認識しません。
使用抗原
ラットのp44 MAPK のC末端の配列 (合成ペプチド)
ホモロジー (相同性) 検索をご希望の場合 >>>
ホモロジー検索をご要望の際は、ご希望のサンプル種のアミノ酸配列とともにお問合せください。
※下記の社内データは、すべて9102 の推奨プロトコールで実験した結果です。
Western Blotting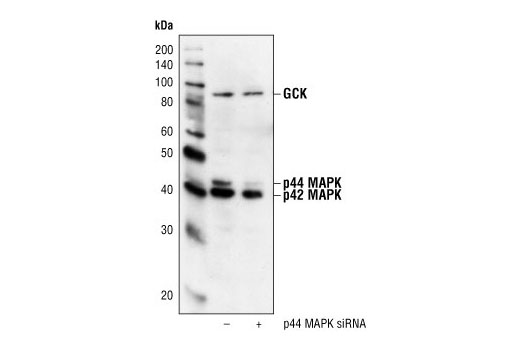 Western blot analysis of extracts from HeLa cells transfected with 100 nM control siRNA #6201 (-) or p44 MAPK (Erk1) siRNA (+), using p44/42 MAPK (Erk1/2) Antibody #9102 and GCK Antibody #3782. The Erk1/2 antibody confirms silencing of Erk1 expression, and GCK Antibody is used to control for loading and specificity of p44 MAPK (Erk1) siRNA.
Western Blotting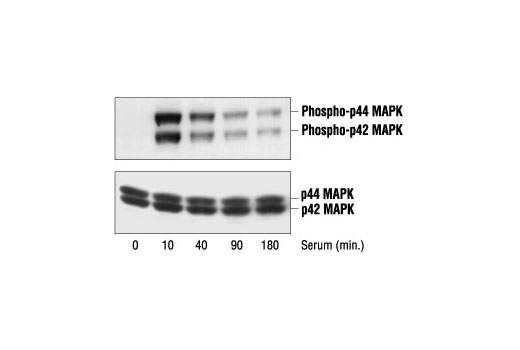 Western blot analysis of extracts from serum-induced PC12 cells, using Phospho-p44/42 MAPK (Erk1/2) (Thr202/Tyr204) Antibody #9101 (upper) or control p44/42 MAPK (Erk1/2) Antibody (lower).
IHC-P (paraffin)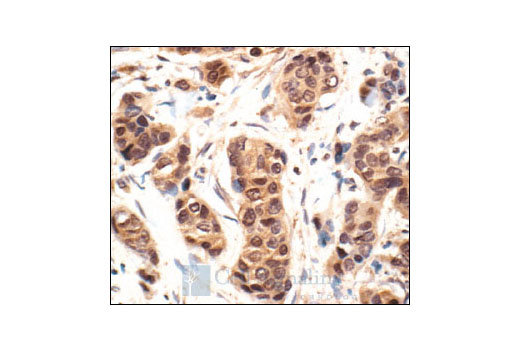 Immunohistochemical analysis of paraffin-embedded human breast carcinoma, showing nuclear and cytoplasmic localization, using p44/42 MAPK (Erk1/2) Antibody.
Mitogen-activated protein kinases (MAPKs) are a widely conserved family of serine/threonine protein kinases involved in many cellular programs, such as cell proliferation, differentiation, motility, and death. The p44/42 MAPK (Erk1/2) signaling pathway can be activated in response to a diverse range of extracellular stimuli including mitogens, growth factors, and cytokines (1-3), and research investigators consider it an important target in the diagnosis and treatment of cancer (4). Upon stimulation, a sequential three-part protein kinase cascade is initiated, consisting of a MAP kinase kinase kinase (MAPKKK or MAP3K), a MAP kinase kinase (MAPKK or MAP2K), and a MAP kinase (MAPK). Multiple p44/42 MAP3Ks have been identified, including members of the Raf family, as well as Mos and Tpl2/COT. MEK1 and MEK2 are the primary MAPKKs in this pathway (5,6). MEK1 and MEK2 activate p44 and p42 through phosphorylation of activation loop residues Thr202/Tyr204 and Thr185/Tyr187, respectively. Several downstream targets of p44/42 have been identified, including p90RSK (7) and the transcription factor Elk-1 (8,9). p44/42 are negatively regulated by a family of dual-specificity (Thr/Tyr) MAPK phosphatases, known as DUSPs or MKPs (10), along with MEK inhibitors, such as U0126 and PD98059.
DRAQ5 is a registered trademark of Biostatus Limited.
Cell Signaling Technology is a trademark of Cell Signaling Technology, Inc.