#8916 Human Epidermal Growth Factor (hEGF)
CSTコード
包装

希望納入価格 (円)

ご登録代理店情報

カスタマー情報にご登録いただいた代理店を表示しています。

ご登録代理店の変更は

こちら

。

#8916SC
50 μg
31,000
#8916SF
50 μg
31,000
SC/LC とSF/LF の違いについて >>>
CSTは、凍結乾燥した2種類の形状のサイトカインと成長因子製品をご用意しています。CSTコードにSC/LCがある製品は、サイトカイン1 μgあたりBSA 20 μgが添加されています。CSTコードにSF/LFがある製品は、BSAが添加されていません。キャリアタンパク質のBSAは、容器表面への吸着を最小限に抑え、再溶解性を高めます。一般的に、キャリアタンパク質が添加されたサイトカイン製品は細胞培養に、添加されていないサイトカイン製品は動物実験やBSAが実験の妨げになる場合に使用します。
由来
ヒトの組換えEpidermal Growth Factor (hEGF) Asn971-Arg1023 (Accession No. NM_0011963) を大腸菌発現系を用いて発現、精製したもの。
生物活性
The bioactivity of recombinant hEGF was determined in a MCF10A cell proliferation assay. The ED50 of each lot is between 10-600 pg/ml.
Coomassie Gel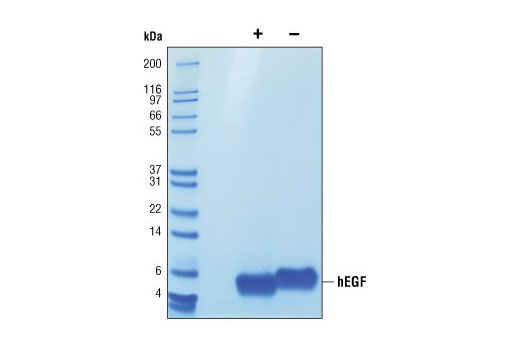 The purity of recombinant hEGF was determined by SDS-PAGE of 6 µg reduced (+) and non-reduced (-) recombinant hEGF and staining overnight with Coomassie Blue.
Bioactivity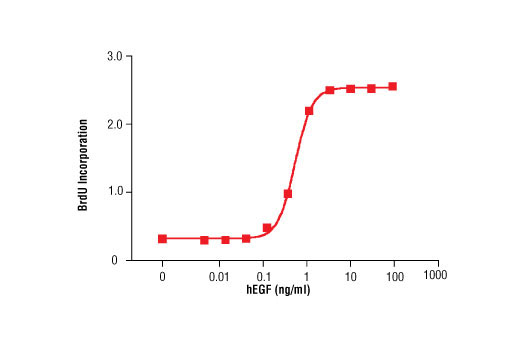 The proliferation of MCF10A cells treated with increasing concentrations of hEGF was assessed. After 24 hr treatment, cells were labeled with BrdU for 4 hr. BrdU incorporation was determined by ELISA and the OD450-OD690 was determined.
Western Blotting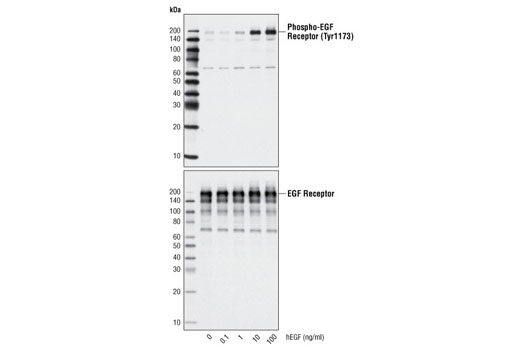 Western blot analysis of extracts from A-431 cells, untreated or treated with hEGF for 10 minutes, using Phospho-EGF Receptor (Tyr1173) (53A5) Rabbit mAb #4407 (upper) and EGF Receptor Antibody #2232 (lower).
EGF is produced by epithelial cells, fibroblasts and many other cell types (1,2). Low molecular weight soluble EGF is generated through proteolysis of a larger ~130,000 molecular weight transmembrane precursor (1,2). Both soluble and membrane forms of EGF are active (2). EGF induces proliferation, differentiation, and survival of many cell types including tumor-derived cells (1,2, 3). There are multiple members of the EGF family and multiple members of the Erb/Her EGF receptor family. EGF binds to ErbB1/HER1 and induces homodimerization or induces heterodimerization with other Erb/Her members (1). Binding of EGF signals through the MAPK, PI3K/Akt, and STAT 5 pathways (1). EGF, EGF family members, EGF receptors and their signaling pathways are involved in many cancers and are targets for therapeutic intervention (1, 2).
Cell Signaling Technology is a trademark of Cell Signaling Technology, Inc.