#8907 Human Interleukin-2 (hIL-2)
CSTコード
包装

希望納入価格 (円)

ご登録代理店情報

カスタマー情報にご登録いただいた代理店を表示しています。

ご登録代理店の変更は

こちら

。

#8907SC
10 μg
43,000
#8907SF
10 μg
43,000
SC/LC とSF/LF の違いについて >>>
CSTは、凍結乾燥した2種類の形状のサイトカインと成長因子製品をご用意しています。CSTコードにSC/LCがある製品は、サイトカイン1 μgあたりBSA 20 μgが添加されています。CSTコードにSF/LFがある製品は、BSAが添加されていません。キャリアタンパク質のBSAは、容器表面への吸着を最小限に抑え、再溶解性を高めます。一般的に、キャリアタンパク質が添加されたサイトカイン製品は細胞培養に、添加されていないサイトカイン製品は動物実験やBSAが実験の妨げになる場合に使用します。
由来
ヒトのIL-2 組み換えタンパク質 (Ala21-Thr153) (Accession No. NM_000586) を大腸菌発現系を用いて発現、精製したもの
生物活性
The bioactivity of recombinant hIL-2 was determined in a CTLL-2 cell proliferation assay. The ED50 of each lot is between 0.1 - 1.0 ng/ml.
Coomassie Gel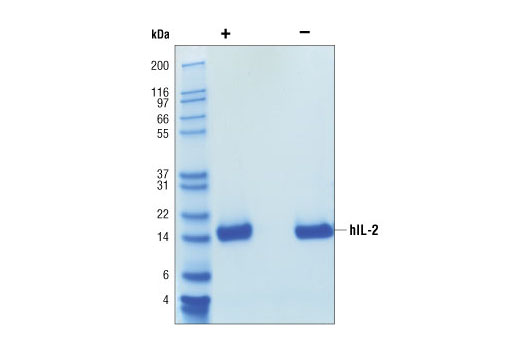 The purity of recombinant hIL-2 was determined by SDS-PAGE of 6 µg reduced (+) and non-reduced (-) recombinant hIL-2 and staining overnight with Coomassie Blue.
Bioactivity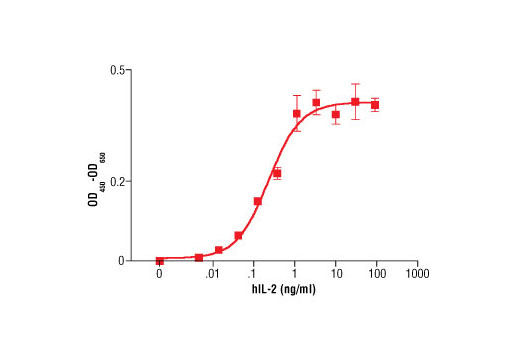 The proliferation of CTLL-2 cells treated with increasing concentrations of hIL-2 was assessed. After 48 hours treatment with hIL-2, cells were incubated with a tetrazolium salt and the OD450 - OD650 was determined.
Western Blotting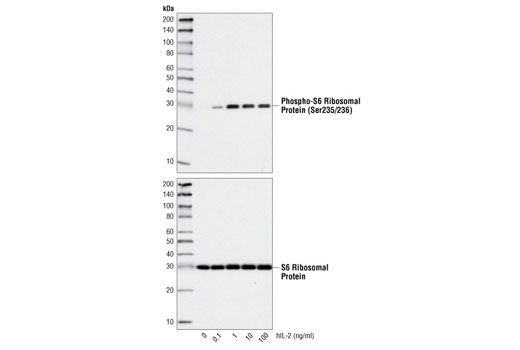 Western blot analysis of extracts from CTLL-2 cells, untreated or treated with hIL-2 for 20 minutes, using Phospho-S6 Ribosomal Protein (Thr235/236)(2F9) Rabbit mAb #4856 (upper) or S6 Ribosomal Protein (5G10) Rabbit mAb #2217 (lower).
IL-2 is a T cell stimulatory cytokine best known for inducing T cell proliferation and NK cell proliferation and activation (1,2). IL-2 also promotes peripheral development of Treg cells (4, 5). Conversely, IL-2 is involved in activation induced cell death (AICD) that is observed post T cell expansion by increasing levels of Fas on CD4+ T cells (3). The effects of IL-2 are mediated through a trimeric receptor complex consisting of IL-2Rα, IL-2Rβ and the common gamma chain, γc (1,2). IL-2 Rα binds exclusively to IL-2 with low affinity and increases binding affinity of the whole receptor complex including IL-2Rβ and γc subunits. IL-2Rβ is also used by IL-15 (1,2). The common γc is used by other cytokines including IL-4, IL-7, IL-9, IL-15, and IL-21 (1,2). Binding of IL-2 initiates signaling cascades involving Jak1, Jak3, Stat5 and the PI3K/Akt pathways (1,2).
Cell Signaling Technology is a trademark of Cell Signaling Technology, Inc.