#8808 Phospho-EGF Receptor (Thr669) (D2F1) Rabbit mAb
| | | | | |
| --- | --- | --- | --- | --- |
| #8808S | 100 μL | 66,000 | | |
感度
分子量 (kDa)
抗体の由来
貯法
内在性
175
Rabbit IgG
-20℃
ウェスタンブロッティング (1:1000)、免疫沈降 (1:200)
特異性・感度
内在性レベルのThr669 がリン酸化されたEGFR タンパク質を検出します。論文によってはこの認識部位をThr669 としていますが、ヒトのEGFR (UniProtKB #P00533) ではThr693、マウスではThr695、ラットではThr694 です。
使用抗原
ヒトのEGFR タンパク質のThr693 周辺領域 (合成リン酸化ペプチド)
ホモロジー (相同性) 検索をご希望の場合 >>>
ホモロジー検索をご要望の際は、ご希望のサンプル種のアミノ酸配列とともにお問合せください。
※下記の社内データは、すべて8808 の推奨プロトコールで実験した結果です。
Western Blotting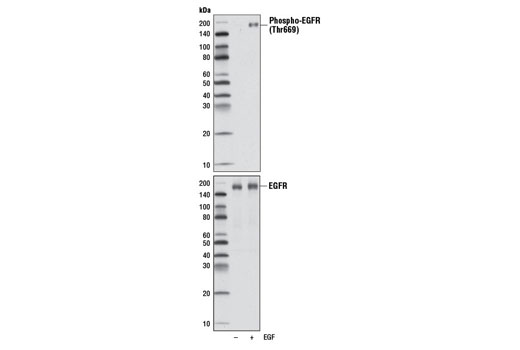 Western blot analysis of extracts from A-431 cells serum starved overnight, and left untreated (-) or treated (+) with EGF (100 ng/ml, 15 min), using Phospho-EGF Receptor (Thr669) (D2F1) Rabbit mAb (upper) and EGF Receptor (D38B1) XP® Rabbit mAb #4267 (lower).
The epidermal growth factor (EGF) receptor is a transmembrane tyrosine kinase that belongs to the HER/ErbB protein family. Ligand binding results in receptor dimerization, autophosphorylation, activation of downstream signaling, internalization, and lysosomal degradation (1,2). Phosphorylation of EGF receptor (EGFR) at Tyr845 in the kinase domain is implicated in stabilizing the activation loop, maintaining the active state enzyme, and providing a binding surface for substrate proteins (3,4). c-Src is involved in phosphorylation of EGFR at Tyr845 (5). The SH2 domain of PLCγ binds at phospho-Tyr992, resulting in activation of PLCγ-mediated downstream signaling (6). Phosphorylation of EGFR at Tyr1045 creates a major docking site for the adaptor protein c-Cbl, leading to receptor ubiquitination and degradation following EGFR activation (7,8). The GRB2 adaptor protein binds activated EGFR at phospho-Tyr1068 (9). A pair of phosphorylated EGFR residues (Tyr1148 and Tyr1173) provide a docking site for the Shc scaffold protein, with both sites involved in MAP kinase signaling activation (2). Phosphorylation of EGFR at specific serine and threonine residues attenuates EGFR kinase activity. EGFR carboxy-terminal residues Ser1046 and Ser1047 are phosphorylated by CaM kinase II; mutation of either of these serines results in upregulated EGFR tyrosine autophosphorylation (10).
Thr669 (equivalent to Thr693 of human EGFR) is phosphorylated by p38 MAP kinase following EGF stimulation (11). Phosphorylation of EGFR at Thr669 may be involved in regulation of ligand induced receptor internalization through interaction with specific downstream EGFR tyrosine kinase substrates (11).
Cell Signaling Technology is a trademark of Cell Signaling Technology, Inc.