#8619 Phospho-AS160 (Ser318) (D3D11) Rabbit mAb
| | | | | |
| --- | --- | --- | --- | --- |
| #8619S | 100 μL | 66,000 | | |
AS160 製品一覧 | #8619 が入っているAntibody Sampler キット一覧
感度
分子量 (kDa)
抗体の由来
貯法
内在性
160
Rabbit IgG
-20℃
ウェスタンブロッティング (1:1000)、免疫沈降 (1:50)
特異性・感度
内在性レベルのSer318 がリン酸化されたAS160 タンパク質を検出します。
使用抗原
ヒトのAS160 タンパク質のSer318 周辺領域 (合成ペプチド)
ホモロジー (相同性) 検索をご希望の場合 >>>
ホモロジー検索をご要望の際は、ご希望のサンプル種のアミノ酸配列とともにお問合せください。
※下記の社内データは、すべて8619 の推奨プロトコールで実験した結果です。
Western Blotting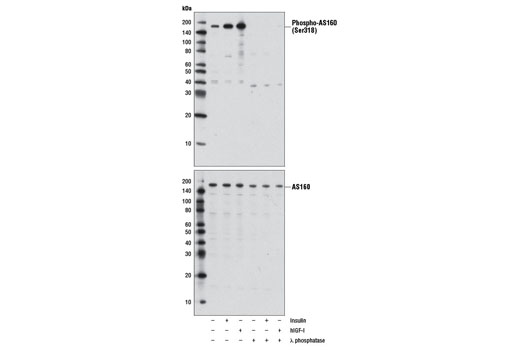 Western blot analysis of extracts from serum-starved HeLa cells, untreated or treated with either insulin (150 nM, 15 min) or hIGF-I #8917 (100 ng/ml, 15 min), using Phospho-AS160 (Ser318) (D3D11) Rabbit mAb (upper) or AS160 (C69A7) Rabbit mAb #2670 (lower). The phospho-specificity of the antibody is verified by λ phosphatase treatment.
Insulin is a major hormone controlling critical energy functions, such as glucose and lipid metabolism. Insulin binds to and activates the insulin receptor (IR) tyrosine kinase, which phosphorylates and recruits adaptor proteins. The signaling pathway initiated by insulin and its receptor stimulates glucose uptake in muscle cells and adipocytes through translocation of the Glut4 glucose transporter from the cytoplasm to the plasma membrane (1). A 160 kDa substrate of the Akt Ser/Thr kinase (AS160, TBC1D4) is a Rab GTPase-activating protein that regulates insulin-stimulated Glut4 trafficking. AS160 is expressed in many tissues including brain, kidney, liver, and brown and white fat (2). Multiple Akt phosphorylation sites have been identified on AS160 in vivo, with five sites (Ser318, Ser570, Ser588, Thr642, and Thr751) showing increased phosphorylation following insulin treatment (2,3). Studies using recombinant AS160 demonstrate that insulin-stimulated phosphorylation of AS160 is a crucial step in Glut4 translocation (3) and is reduced in some patients with type 2 diabetes (4). The interaction of 14-3-3 regulatory proteins with AS160 phosphorylated at Thr642 is a necessary step for Glut4 translocation (5). Phosphorylation of AS160 by AMPK is involved in the regulation of contraction-stimulated Glut4 translocation (6).
Cell Signaling Technology is a trademark of Cell Signaling Technology, Inc.