#8618 SignalSilence® CDK2 siRNA I
| | | | | |
| --- | --- | --- | --- | --- |
| #8618S | 300 μL | 57,000 | | |
特異性
CDK2 タンパク質の発現を特異的に抑制します。
Western Blotting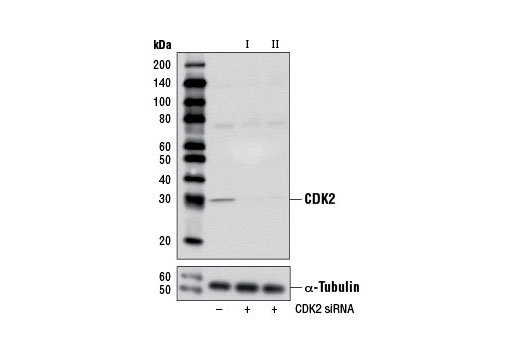 Western blot analysis of extracts from HeLa cells, transfected with 100 nM SignalSilence® Control siRNA (Unconjugated) #6568 (-), SignalSilence® CDK2 siRNA I (+) or SignalSilence® CDK2 siRNA II #7417 (+), using CDK2 (78B2) Rabbit mAb #2546 (upper) or α-Tubulin (11H10) Rabbit mAb #2125 (lower). The CDK2 (78B2) Rabbit mAb confirms silencing of CDK2 expression, while the α-Tubulin (11H10) Rabbit mAb is used as a loading control.
Cyclin-dependent kinase 2 (p33CDK2) is an important component of the cell cycle machinery. Like p34cdc2, kinase activity is regulated by phosphorylation state as well as association with a cyclin subunit and a CDK inhibitor. Inhibitory phosphorylation occurs on Thr14 and Tyr15 (1). Inhibition of CDK2-cyclin complexes can also be attributed to association with p27 Kip1 and p21 Waf1/Cip1 (2). Activation of CDK2 complexes requires dephosphorylation of Thr14 and Tyr15 by cdc25 phosphatase and phosphorylation of Thr160 (3), which is mediated by CAK, a complex of CDK7 and cyclin H (4). CDK2/cyclin E kinase activity is important for the G1 to S transition and phosphorylation of the Rb protein. During S-phase, active CDK2/cyclin A complexes predominate and phosphorylate E2F and the active CDK2 complex persists in the nucleus throughout G2 (5).
SignalSilence is a registered trademark of Cell Signaling Technology, Inc.
Cell Signaling Technology is a trademark of Cell Signaling Technology, Inc.