#8457 β-Actin (D6A8) Rabbit mAb
CSTコード
包装

希望納入価格 (円)

ご登録代理店情報

カスタマー情報にご登録いただいた代理店を表示しています。

ご登録代理店の変更は

こちら

。

#8457S
100 μL
56,000
#8457L
300 μL
128,000
#8457T
20 μL
39,000


Custom Antibody Sampler Kitの構成品を選択できます。
5本以上を選択し、ページ右上のCartから製品確定書を発行してください。
尚、構成品の単品販売は致しておりません。
ACTIN 製品一覧 | #8457 が入っているAntibody Sampler キット一覧
感度
分子量 (kDa)
抗体の由来
貯法
内在性
45
Rabbit IgG
-20℃
| 種交差性 (社内試験済) | |
| --- | --- |
| ヒト、マウス、ラット、サル、キイロショウジョウバエ、ゼブラフィッシュ | ハムスター、ニワトリ、ウシ、ブタ |
ウェスタンブロッティング (1:1000)、免疫蛍光細胞染色 (IF-IC) (1:200)、フローサイトメトリー (1:100)
特異性・感度
内在性レベルのβ-Actin タンパク質を検出します。
使用抗原
ヒトのβ-Actin タンパク質のN末端近傍領域 (合成ペプチド)
ホモロジー (相同性) 検索をご希望の場合 >>>
ホモロジー検索をご要望の際は、ご希望のサンプル種のアミノ酸配列とともにお問合せください。
※下記の社内データは、すべて8457 の推奨プロトコールで実験した結果です。
Western Blotting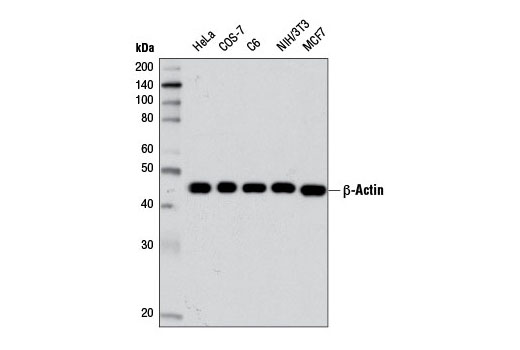 Western blot analysis of extracts from various cell lines using β-Actin (D6A8) Rabbit mAb.
IF-IC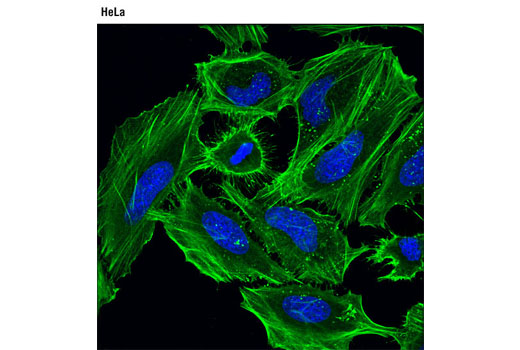 Confocal immunofluorescent analysis of HeLa cells using β-Actin (D6A8) Rabbit mAb (green). Blue pseudocolor = DRAQ5® #4084 (fluorescent DNA dye).
Flow Cytometry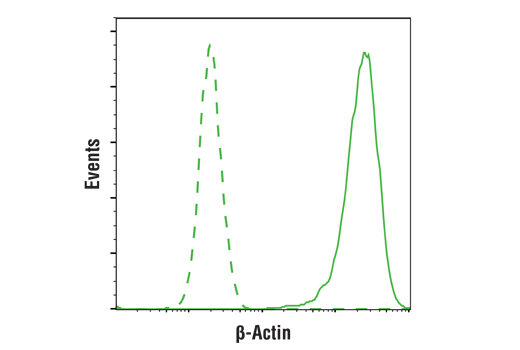 Flow cytometric analysis of HeLa cells using β-Actin (D6A8) Rabbit mAb (solid line) compared to concentration-matched Rabbit (DA1E) mAb IgG XP® Isotype control #3900 (dashed line). Anti-rabbit IgG (H+L), F(ab')2 Fragment (Alexa Fluor® 488 Conjugate) #4412 was used as a secondary antibody.
Actin, a ubiquitous eukaryotic protein, is the major component of the cytoskeleton. At least six isoforms are known in mammals. Nonmuscle β- and γ-actin, also known as cytoplasmic actin, are predominantly expressed in nonmuscle cells, controlling cell structure and motility (1). α-cardiac and α-skeletal actin are expressed in striated cardiac and skeletal muscles, respectively; two smooth muscle actins, α- and γ-actin, are found primarily in vascular smooth muscle and enteric smooth muscle, respectively. These actin isoforms regulate the contractile potential of muscle cells (1). Actin exists mainly as a fibrous polymer, F-actin. In response to cytoskeletal reorganizing signals during processes such as cytokinesis, endocytosis, or stress, cofilin promotes fragmentation and depolymerization of F-actin, resulting in an increase in the monomeric globular form, G-actin (2). The ARP2/3 complex stabilizes F-actin fragments and promotes formation of new actin filaments (2). Research studies have shown that actin is hyperphosphorylated in primary breast tumors (3). Cleavage of actin under apoptotic conditions has been observed in vitro and in cardiac and skeletal muscle, as shown in research studies (4-6). Actin cleavage by caspase-3 may accelerate ubiquitin/proteasome-dependent muscle proteolysis (6).
DRAQ5 is a registered trademark of Biostatus Limited.
Alexa Fluor is a registered trademark of Life Technologies Corporation.
Cell Signaling Technology is a trademark of Cell Signaling Technology, Inc.