#8431 CISH (D4C10) Rabbit mAb
| | | | | |
| --- | --- | --- | --- | --- |
| #8431S | 100 μL | 56,000 | | |
感度
分子量 (kDa)
抗体の由来
貯法
内在性
32, 37
Rabbit IgG
-20℃
ウェスタンブロッティング (1:1000)、免疫沈降 (1:100)
特異性・感度
内在性レベルのCISH タンパク質を検出します。
使用抗原
ヒトのCISH タンパク質のVal33 周辺領域 (合成ペプチド)
ホモロジー (相同性) 検索をご希望の場合 >>>
ホモロジー検索をご要望の際は、ご希望のサンプル種のアミノ酸配列とともにお問合せください。
※下記の社内データは、すべて8431 の推奨プロトコールで実験した結果です。
Western Blotting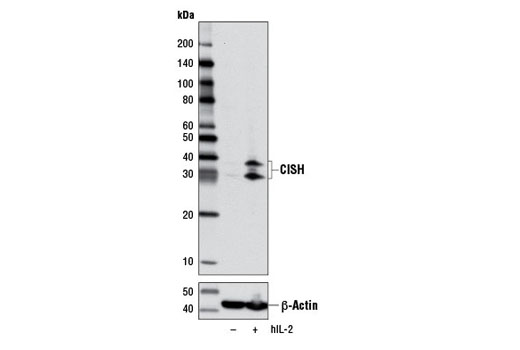 Western blot analysis of extracts from NK-92 cells, untreated (-) or treated (+) with Human Interleukin-2 (hIL-2) #8907 (10 ng/ml, overnight), using CISH (D4C10) Rabbit mAb (upper) and β-Actin (D6A8) Rabbit mAb #8457 (lower).
The suppressor of cytokine signaling (SOCS) family members are negative regulators of cytokine signal transduction that inhibit the Jak/Stat pathway (1-3). The SOCS family consists of at least 8 members including the originally identified cytokine-inducible SH2-containing protein (CIS1), as well as SOCS1-7. Each SOCS family member contains a central SH2 domain and a conserved carboxy-terminal motif designated as the SOCS box. These proteins are important regulators of cytokine signaling, proliferation, differentiation, and immune responses.
CISH/CIS1, the first described member of the SOCS family, is induced by a number of cytokines including IL-2, IL-3, GM-CSF, and EPO (4). The CISH protein appears as a doublet around 32 and 37 kDa, the nature of which is unknown (4). CISH binds to phosphorylated cytokine receptors and can inhibit Stat5 activity (4-6). Expression of CISH is regulated by Stat5, thereby providing feedback modulation (5). Transgenic mice overexpressing CISH display phenotypes similar to Stat5 knockouts, including defects in mammary gland development and in T and NK cell regulation (6). Research studies have shown that polymorphisms within the CISH gene are associated with susceptibility to infectious diseases (7).
Cell Signaling Technology is a trademark of Cell Signaling Technology, Inc.