#8104 SignalSlide® Cleaved Caspase-3 (Asp175) IHC Controls
| | | | | |
| --- | --- | --- | --- | --- |
| #8104S | 1 Pack (5 Slides) | 30,000 | | |
* 本製品は受注生産品で、有効期限は製造後2ヶ月です。
製品概要
各コントロールスライドにはEtoposide 未処理と処理済のJurkat 細胞がホルマリン固定/パラフィン包埋され、cleaved caspase-3 (Asp 175) タンパク質の免疫染色のコントロールとして使用します。同細胞由来の溶解物でウェスタンブロッティングを行い、Etoposide 処理の効率を確認しています。
Western Blotting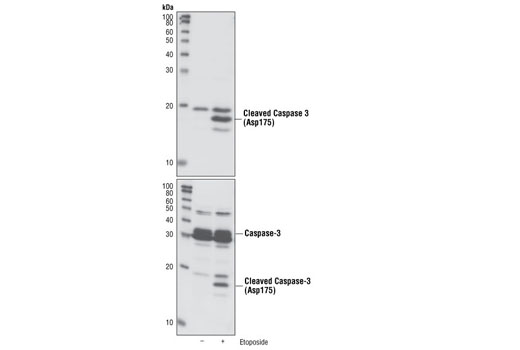 Western blot analysis of extracts from Jurkat cells, untreated or treated with etoposide, using Cleaved Caspase-3 (Asp 175) (5A1) Rabbit mAb #9664 (upper) or Caspase-3 (8G10) Rabbit mAb #9665 (lower). This assay serves as a control for the efficacy of the etoposide treatment.
IHC-P (paraffin)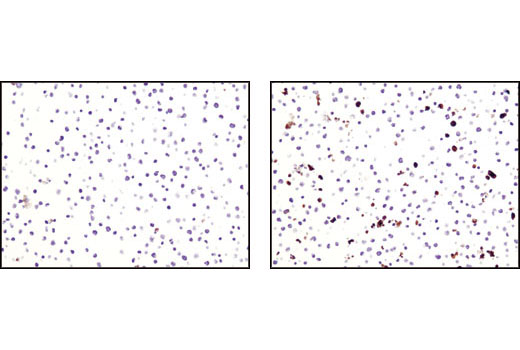 Immunohistochemical anaysis of paraffin-embedded Jurkat cells, untreated (left) or etoposide-treated (right), using Cleaved Caspase-3 (Asp175) Antibody #9661.
Schematic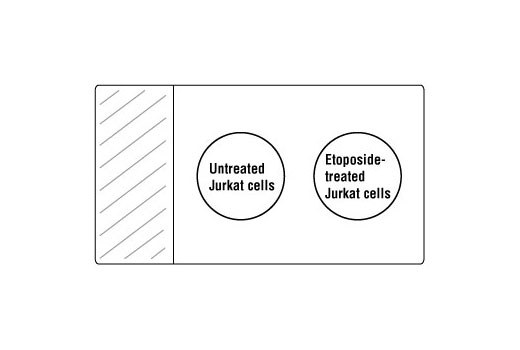 Caspase-3 (CPP-32, Apoptain, Yama, SCA-1) is a critical executioner of apoptosis, as it is either partially or totally responsible for the proteolytic cleavage of many key proteins, such as the nuclear enzyme poly (ADP-ribose) polymerase (PARP) (1). Activation of caspase-3 requires proteolytic processing of its inactive zymogen into activated p17 and p12 fragments. Cleavage of caspase-3 requires the aspartic acid residue at the P1 position (2).
SignalSlide is a registered trademark of Cell Signaling Technology, Inc.
Cell Signaling Technology is a trademark of Cell Signaling Technology, Inc.