#8020 Cyclic GMP XP® Chemiluminescent Assay Kit
| | | | | |
| --- | --- | --- | --- | --- |
| #8020S | 1 Kit | 72,000 | | |
| キット内容 | 容量 | 液色 |
| --- | --- | --- |
| cGMP Rabbit mAb Coated Microwells | 1 x 96 tests | |
| cGMP-HRP Conjugate | 1 x 5.5 ml | Red |
| cGMP Standard (5 uM) | 1 x 0.5 ml | |
| Luminol/Enhancer Solution | 1 x 3 ml | |
| Stable Peroxide Buffer | 1 x 3 ml | |
| Sealing Tape | 1 x 2 ea | |
| ELISA Wash Buffer (20X) #9801 | 1 x 10 ml | |
| Cell Lysis Buffer (10X) #9803 | 1 x 15 ml | |
Kit 情報
酵素結合免疫競合アッセイで細胞や組織内にあるcGMP 量を測定するのに使用します。
特異性・感度
ADP、AMP、ATP、cAMP、cGMP、cIMP、cTMP、CTP、GDP、GMP、GTP での社内試験の結果、cIMP とわずかな交差 (cGMP の100分の1程度) を確認しました。他の因子との交差性は見られませんでした。
ELISA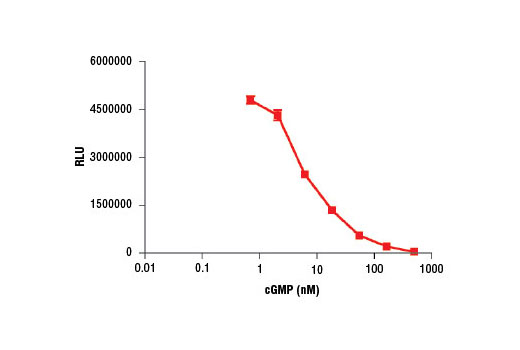 Figure 1: cGMP Standard was diluted in 1X Cell Lysis Buffer #9803 and samples were assayed following the Cyclic GMP XP® Chemiluminescent Assay Kit protocol. This standard curve is for demonstration purposes only; users should generate a standard curve for each sample set in order to accurately determine cGMP concentration.
ELISA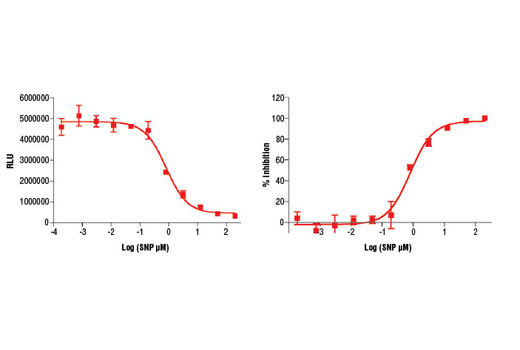 Figure 2: Treatment of RFL-6 cells with sodium nitroprusside (SNP) increases cGMP concentration as detected by Cyclic GMP XP® Chemiluminescent Assay Kit #8020. RFL-6 cells were seeded at 2x105 cells/well in a 12-well plate and incubated overnight. Cells were either left untreated or pretreated with 0.5 mM IBMX for 15 minutes prior to SNP treatment (30 minutes) and lysed with 1X Cell Lysis Buffer #9803. The light emission values (left) and percentage of activity (right) are shown above. The percentage of activity is calculated as follows: % activity=100x[(RLU-RLUbasal)/(RLUmax-RLUbasal)], where RLU is the relative light unit, RLUmax is the light emission at maximum stimulation (i.e., high SNP concentration), and RLUbasal is the light emission at basal level (no SNP). SNP is a nitric oxide donor that directly activates soluble guanylyl cyclases and increases cellular cGMP concentration. IBMX is a non-specific inhibitor of cAMP and cGMP phosphodiesterases that promotes accumulation of cAMP and cGMP in cells.
Cyclic guanosine 3',5'-monophosphate (cGMP) is a critical and multifunctional second messenger molecule involved in many signal transduction pathways in different cell types of almost all species (1). Intracellular cGMP is generated from GTP by guanylyl cyclase (GC) and degraded through phosphodiesterase (PDE) hydrolysis (1,2). Two distinctive families of GC have been identified: soluble guanylyl cyclases (sGC) that are nitric oxide-responsive and cell membrane-bound; and particulate guanylyl cyclases (pGC) that respond to diverse extracellular agonists including peptide hormones, bacterial toxins, and free radicals (2,3). Phosphodiesterases form a superfamily of 11 isoforms with different specificity to both cyclic adenosine 3',5'-monophosphate (cAMP) and cGMP (4). Cyclic GMP regulates cellular physiology by activating cGMP-dependent kinase, modulating cGMP-dependent ion channels or transporters, and altering its own hydrolytic degradation by PDE (1,4). Because of the diversity of its effectors, cGMP plays an important role in regulating various pathological and physiological processes, such as vascular smooth muscle motility, intestinal fluid and electrolyte homeostasis, and retinal phototransduction (1,5).
XP is a registered trademark of Cell Signaling Technology, Inc.
FastScan™ ELISA is a trademark of Cell Signaling Technology, Inc.
Cell Signaling Technology is a trademark of Cell Signaling Technology, Inc.