#7399 Phospho-AP2M1 (Thr156) (D4F3) Rabbit mAb
| | | | | |
| --- | --- | --- | --- | --- |
| #7399S | 100 μL | 66,000 | | |
感度
分子量 (kDa)
抗体の由来
貯法
内在性
50
Rabbit IgG
-20℃
| 種交差性 (社内試験済) | |
| --- | --- |
| ヒト | マウス、ラット、サル |
ウェスタンブロッティング (1:1000)、免疫沈降 (1:100)、免疫蛍光細胞染色 (IF-IC) (1:50)
特異性・感度
内在性レベルのThr156 がリン酸化されたAP2M1 タンパク質を検出します。
使用抗原
ヒトのAP2M1 タンパク質のThr156 周辺領域 (合成リン酸化ペプチド)
ホモロジー (相同性) 検索をご希望の場合 >>>
ホモロジー検索をご要望の際は、ご希望のサンプル種のアミノ酸配列とともにお問合せください。
※下記の社内データは、すべて7399 の推奨プロトコールで実験した結果です。
Western Blotting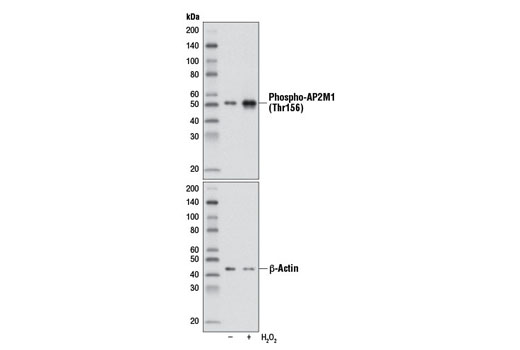 Western blot analysis of extracts from HeLa cells, serum-starved overnight and either untreated or H2O2-treated (4 mM, 30 min), using Phospho-AP2M1 (Thr156) (D4F3) Rabbit mAb (upper) or β-Actin Antibody #4967 (lower).
IF-IC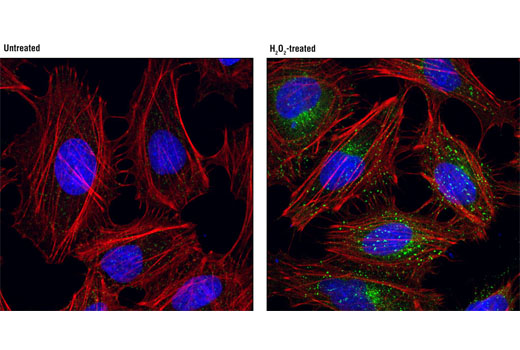 Confocal immunofluorescent analysis of HeLa cells, untreated (left) or H2O2-treated (4 mM, 15 min; right), using Phospho-AP2M1 (Thr156) (D4F3) Rabbit mAb (green). Actin filaments were labeled with DY-554 phalloidin (red). Blue pseudocolor = DRAQ5® #4084 (fluorescent DNA dye).
The AP-2 coat assembly protein complex is an important component of clathrin-coated pits involved in receptor-mediated endocytosis at the plasma membrane (1-3). Each AP-2 heterotetramer is composed of α, β, μ, and σ protein subunits. The 50 kDa μ subunit (AP-2μ, AP2M1) is located at the core of the AP-2 complex and mediates interaction between the cargo protein and the clathrin-coated pit (1-4). The carboxy-terminal AP2M1 region recognizes the tyrosine-based, endocytotic sorting motif YXXφ found in cargo proteins and helps to bring the cargo protein to the clathrin-coated pit. Non-canonical, tyrosine-based endocytotic sorting signals can also promote interaction between cargo proteins and AP2M1 (5,6). AP2M1 plays an essential role in molecular signaling as it couples receptor-mediated endocytosis and pathways involving membrane receptors (7-9), matrix metalloproteinases (10), and ion channel proteins (11). Phosphorylation of specific AP2M1 residues and binding of lipids to this adaptor protein can regulate AP2M1 activity (12,13). Phosphorylation of AP2M1 at Thr156 by adaptor-associated kinase 1 (AAK1) stimulates affinity binding of AP2M1 to cargo protein signals (14).
DRAQ5 is a registered trademark of Biostatus Limited.
Cell Signaling Technology is a trademark of Cell Signaling Technology, Inc.