#6883 SignalFire™ ECL Reagent
CSTコード
包装

希望納入価格 (円)

ご登録代理店情報

カスタマー情報にご登録いただいた代理店を表示しています。

ご登録代理店の変更は

こちら

。

#6883P3
50 mL (25 mL x 2)
6,300
#6883S
500 mL (250 mL x 2)
47,000
製品概要
ルミノールベースの検出システムです。感度に優れ、ピコグラム量のタンパク質の検出が可能です。発光はインキュベーション直後が最も強く、1時間持続します。
Western Blotting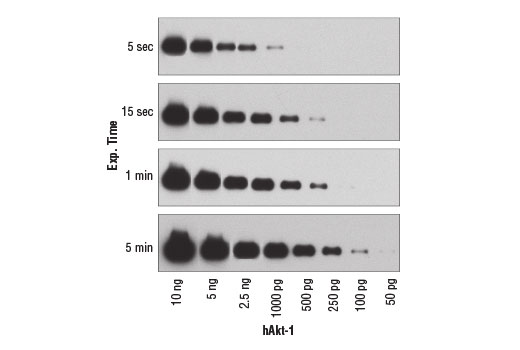 SignalFire™ ECL Reagent is sensitive enough to detect picogram levels of protein. Western blot analysis of diluted recombinant human Akt-1 protein using Akt (pan) (C67E7) Rabbit mAb #4691.
Chemiluminescence systems have emerged as the best all-around method for western blot detection. They eliminate the hazards associated with radioactive materials and toxic chromogenic substrates. The speed and sensitivity of these methods are unequalled by traditional alternatives, and because results are generated on film, it is possible to record and store data permanently. Blots detected with chemiluminescent methods are easily stripped for subsequent reprobing with additional antibodies. HRP-conjugated secondary antibodies are utilized in conjunction with specific chemiluminescent substrates to generate the light signal. HRP conjugates have a very high turnover rate, yielding good sensitivity with short reaction times.
SignalFire is a trademark of Cell Signaling Technology, Inc.
Cell Signaling Technology is a trademark of Cell Signaling Technology, Inc.