#6564 SignalSilence® p38 MAPK siRNA I
| | | | | |
| --- | --- | --- | --- | --- |
| #6564S | 300 μL | 57,000 | | |
特異性
p38 MAPK タンパク質の発現を抑制します。
Western Blotting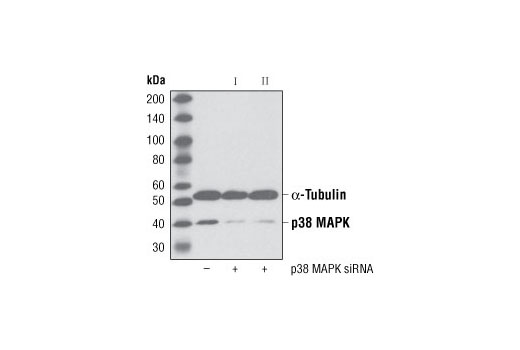 Western blot analysis of extracts from HeLa cells, transfected with 100 nM SignalSilence® Control siRNA (Unconjugated) #6568 (-), SignalSilence® p38 MAPK siRNA I (+) or SignalSilence® p38 MAPK siRNA II #6243 (+), using p38 MAPK Antibody #9212 and α-Tubulin (11H10) Rabbit mAb #2125. The p38 MAPK antibody confirms silencing of p38 MAPK expression while the α-Tubulin (11H10) Rabbit mAb is used to control for loading and specificity of p38 MAPK siRNA.
p38 MAP kinase (MAPK), also called RK (1) or CSBP (2), is the mammalian orthologue of the yeast HOG kinase that participates in a signaling cascade controlling cellular responses to cytokines and stress (1-4). Four isoforms of p38 MAPK, p38α, β, γ (also known as Erk6 or SAPK3), and δ (also known as SAPK4) have been identified. Similar to the SAPK/JNK pathway, p38 MAPK is activated by a variety of cellular stresses including osmotic shock, inflammatory cytokines, lipopolysaccharide (LPS), UV light, and growth factors (1-5). MKK3, MKK6, and SEK activate p38 MAPK by phosphorylation at Thr180 and Tyr182. Activated p38 MAPK has been shown to phosphorylate and activate MAPKAP kinase 2 (3) and to phosphorylate the transcription factors ATF-2 (5), Max (6), and MEF2 (5-8). SB203580 (4-(4-fluorophenyl)-2-(4-methylsulfinylphenyl)-5-(4-pyridyl)-imidazole) is a selective inhibitor of p38 MAPK. This compound inhibits the activation of MAPKAPK-2 by p38 MAPK and subsequent phosphorylation of HSP27 (9). SB203580 inhibits p38 MAPK catalytic activity by binding to the ATP-binding pocket, but does not inhibit phosphorylation of p38 MAPK by upstream kinases (10).
SignalSilence is a registered trademark of Cell Signaling Technology, Inc.
Limited Use Label License, RNA interference: This product is licensed under European Patent 1144623 and foreign equivalents from Ribopharma AG, Kulmbach, Germany and is provided only for use in non-commercial research specifically excluding use (a) in drug discovery or drug development, including target identification or target validation, by or on behalf of a commercial entity, (b) for contract research or commercial screening services, (c) for the production or manufacture of siRNA-related products for sale, or (d) for the generation of commercial databases for sale to Third Parties. Information about licenses for these and other commercial uses is available from Ribopharma AG, Fritz-Hornschuch-Str. 9, D-95326 Kulmbach, Germany.
Cell Signaling Technology is a trademark of Cell Signaling Technology, Inc.