#6303 SignalSilence® FoxO3a siRNA II
| | | | | |
| --- | --- | --- | --- | --- |
| #6303S | 300 μL | 57,000 | | |
特異性
FoxO3a タンパク質の発現を特異的に抑制します。
Western Blotting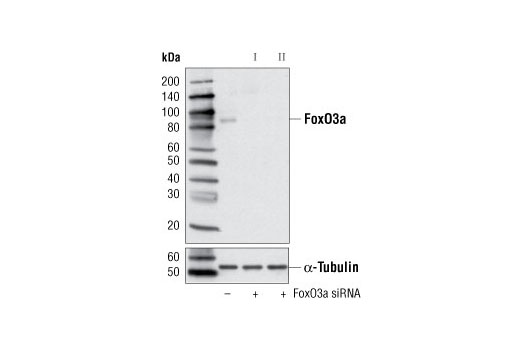 Western blot analysis of extracts from HeLa cells, transfected with 100 nM SignalSilence® Control siRNA (Unconjugated) #6568 (-), SignalSilence® FoxO3a siRNA I #6302 (+) or SignalSilence® FoxO3a siRNA II (+), using FoxO3a (75D8) Rabbit mAb #2497 (upper) or α-Tubulin (11H10) Rabbit mAb #2125 (lower). The FoxO3a (75D8) Rabbit mAb confirms silencing of FoxO3a expression, while the α-Tubulin (11H10) Rabbit mAb is used as a loading control.
The Forkhead family of transcription factors is involved in tumorigenesis of rhabdomyosarcoma and acute leukemias (1-3). Within the family, three members (FoxO1, FoxO4, and FoxO3a) have sequence similarity to the nematode orthologue DAF-16, which mediates signaling via a pathway involving IGFR1, PI3K, and Akt (4-6). Active forkhead members act as tumor suppressors by promoting cell cycle arrest and apoptosis. Increased expression of any FoxO member results in the activation of the cell cycle inhibitor p27 Kip1. Forkhead transcription factors also play a part in TGF-β-mediated upregulation of p21 Cip1, a process negatively regulated through PI3K (7). Increased proliferation results when forkhead transcription factors are inactivated through phosphorylation by Akt at Thr24, Ser256, and Ser319, which results in nuclear export and inhibition of transcription factor activity (8). Forkhead transcription factors can also be inhibited by the deacetylase sirtuin (SirT1) (9).
SignalSilence is a registered trademark of Cell Signaling Technology, Inc.
Cell Signaling Technology is a trademark of Cell Signaling Technology, Inc.