#5841 Phospho-FRA1 (Ser265) (D22B1) Rabbit mAb
CSTコード
包装

希望納入価格 (円)

ご登録代理店情報

カスタマー情報にご登録いただいた代理店を表示しています。

ご登録代理店の変更は

こちら

。

#5841S
100 μL
67,000
#5841T
20 μL
39,000


Custom Antibody Sampler Kitの構成品を選択できます。
5本以上を選択し、ページ右上のCartから製品確定書を発行してください。
尚、構成品の単品販売は致しておりません。
FRA1 製品一覧 | #5841 が入っているAntibody Sampler キット一覧
感度
分子量 (kDa)
抗体の由来
貯法
内在性
40
Rabbit IgG
-20℃
| 種交差性 (社内試験済) | |
| --- | --- |
| ヒト、マウス、ラット | サル、ウシ、ウマ |
ウェスタンブロッティング (1:1000)、クロマチン免疫沈降 (1:50)
特異性・感度
内在性レベルのSer265 がリン酸化されたFRA1 タンパク質を検出します。リン酸化FRA2 タンパク質と交差する可能性がありますが、リン酸化c-Fos やFosB タンパク質とは交差しません。
使用抗原
ヒトのFRA1 タンパク質のSer265 周辺領域 (合成リン酸化ペプチド)
ホモロジー (相同性) 検索をご希望の場合 >>>
ホモロジー検索をご要望の際は、ご希望のサンプル種のアミノ酸配列とともにお問合せください。
※下記の社内データは、すべて5841 の推奨プロトコールで実験した結果です。
Western Blotting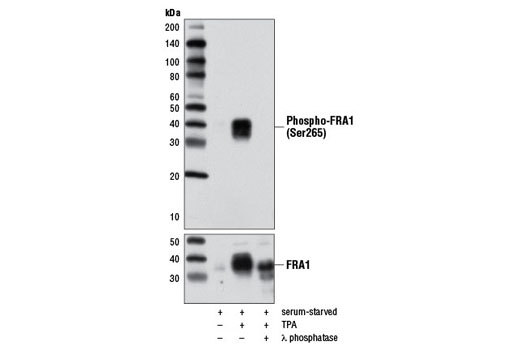 Western blot analysis of extracts from HeLa cells, serum-starved overnight, and either left untreated or treated with TPA #4174 for 4 hours, using Phospho-FRA1 (Ser265) (D22B1) Rabbit mAb #5841 (upper) and FRA1 (D80B4) Rabbit mAb #5281 (lower). Antibody phospho-specificity is shown by treating lysates with λ phosphatase.
Chromatin IP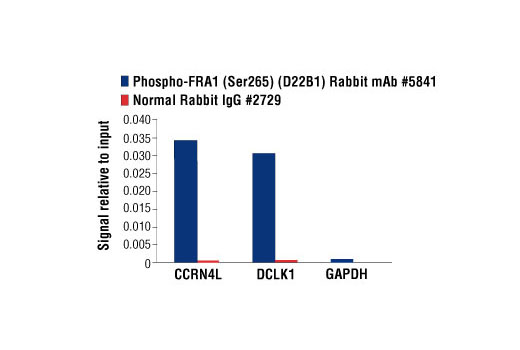 Chromatin immunoprecipitations were performed with cross-linked chromatin from PC-12 cells starved overnight and treated with β-NGF #5221 (50ng/ml) for 2h and either Phospho-FRA1 (Ser265) (D22B1) Rabbit mAb or Normal Rabbit IgG #2729 using SimpleChIP® Enzymatic Chromatin IP Kit (Magnetic Beads) #9003. The enriched DNA was quantified by real-time PCR SimpleChIP® Rat CCRN4L Promoter Primers #7983, rat DCLK1 promoter primers, and SimpleChIP® Rat GAPDH Promoter Primers #7964. The amount of immunoprecipitated DNA in each sample is represented as signal relative to the total amount of input chromatin, which is equivalent to one.
The Fos family of nuclear oncogenes includes c-Fos, FosB, Fos-related antigen 1 (FRA1), and Fos-related antigen 2 (FRA2) (1). While most Fos proteins exist as a single isoform, the FosB protein exists as two isoforms: full-length FosB and a shorter form, FosB2 (Delta FosB), which lacks the carboxy-terminal 101 amino acids (1-3). The expression of Fos proteins is rapidly and transiently induced by a variety of extracellular stimuli including growth factors, cytokines, neurotransmitters, polypeptide hormones, and stress. Fos proteins dimerize with Jun proteins (c-Jun, JunB, and JunD) to form Activator Protein-1 (AP-1), a transcription factor that binds to TRE/AP-1 elements and activates transcription. Fos and Jun proteins contain the leucine-zipper motif that mediates dimerization and an adjacent basic domain that binds to DNA. The various Fos/Jun heterodimers differ in their ability to transactivate AP-1 dependent genes. In addition to increased expression, phosphorylation of Fos proteins by Erk kinases in response to extracellular stimuli may further increase transcriptional activity (4-6). Phosphorylation of c-Fos at Ser32 and Thr232 by Erk5 increases protein stability and nuclear localization (5). Phosphorylation of FRA1 at Ser252 and Ser265 by Erk1/2 increases protein stability and leads to overexpression of FRA1 in cancer cells (6). Following growth factor stimulation, expression of FosB and c-Fos in quiescent fibroblasts is immediate, but very short-lived, with protein levels dissipating after several hours (7). FRA1 and FRA2 expression persists longer, and appreciable levels can be detected in asynchronously growing cells (8). Deregulated expression of c-Fos, FosB, or FRA2 can result in neoplastic cellular transformation; however, Delta FosB lacks the ability to transform cells (2,3).
Cell Signaling Technology is a trademark of Cell Signaling Technology, Inc.