#5638 Phospho-TNK1 (Tyr277) (D46E7) Rabbit mAb
| | | | | |
| --- | --- | --- | --- | --- |
| #5638S | 100 μL | 66,000 | | |
感度
分子量 (kDa)
抗体の由来
貯法
内在性
72 TNK1, 58 TNK1-C17orf61
Rabbit IgG
-20℃
特異性・感度
内在性レベルのTyr277 がリン酸化されたTNK1 タンパク質を検出します。
使用抗原
ヒトのTNK1 タンパク質のTyr277 周辺領域 (合成リン酸化ペプチド)
ホモロジー (相同性) 検索をご希望の場合 >>>
ホモロジー検索をご要望の際は、ご希望のサンプル種のアミノ酸配列とともにお問合せください。
※下記の社内データは、すべて5638 の推奨プロトコールで実験した結果です。
Western Blotting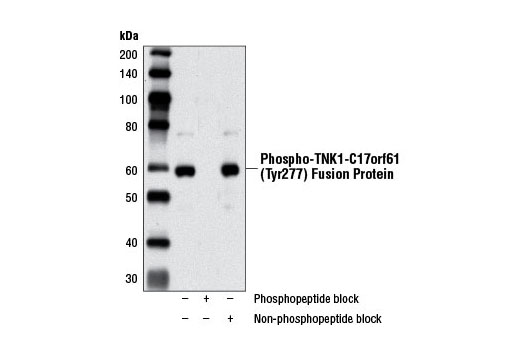 Western blot analysis of extracts from L-540 cells, untreated or pre-incubated with either a site-specific phosphorylated peptide to block the signal or a site-specific non-phosphorylated peptide, using Phospho-TNK1 (Tyr277) (D46E7) Rabbit mAb. L-540 cells express a 58 kDa TNK1-C17orf61 fusion protein containing 466 amino acids from the amino terminus of TNK1 [Gu, T.L. et al. (2010) Leukemia].
Tyrosine kinase non-receptor 1 (TNK1) is related to the Ack1 (TNK2) non-receptor kinase that binds cdc42 and inhibits GTPase activity of this cell cycle regulator. TNK1 is broadly expressed in embryogenic tissues and leukemia cell lines, but is restricted to select adult tissues (1). TNK1 is a putative 72 kDa protein comprised of an N-terminal kinase domain, a central SH3 domain and a proline-rich tail. Interaction with PLCγ in vitro indicates a possible role in phospholipid signal transduction pathways (2). Though the exact mechanism is currently unclear, active TNK1 may play a role in regulating cell death by preventing TNF-α-induced NF-κB transactivation (3).
Phosphorylation of TNK1 on Tyr277 was identified at Cell Signaling Technology (CST) using PhosphoScan®, CST's LC-MS/MS platform for phosphorylation site discovery (4) and also reported independently in another publication using MS technology (5). Phosphorylation of TNK1 at Tyr277 was observed in select carcinoma cell lines and in tumors. A constitutively active, 58 kDa truncated TNK1 kinase resulting from fusion between the TNK1 and C17orf61 genes is seen in some cells (5). For additional information, visit PhosphoSitePlus™, CST's modification site knowledgebase, at www.phosphosite.org.
Cell Signaling Technology is a trademark of Cell Signaling Technology, Inc.