#5632 Toll-like Receptor 7 (D7) Rabbit mAb
CSTコード
包装

希望納入価格 (円)

ご登録代理店情報

カスタマー情報にご登録いただいた代理店を表示しています。

ご登録代理店の変更は

こちら

。

#5632S
100 μL
56,000
#5632T
20 μL
39,000


Custom Antibody Sampler Kitの構成品を選択できます。
5本以上を選択し、ページ右上のCartから製品確定書を発行してください。
尚、構成品の単品販売は致しておりません。
TOLL-LIKE RECEPTOR 7 製品一覧 | #5632 が入っているAntibody Sampler キット一覧
感度
分子量 (kDa)
抗体の由来
貯法
内在性
140
Rabbit IgG
-20℃
ウェスタンブロッティング (1:1000)、免疫沈降 (1:100)
特異性・感度
内在性レベルのToll-like Receptor 7 (TLR7) タンパク質を検出します。
使用抗原
ヒトのTLR7 タンパク質のロイシンリッチリピート内の配列 (合成ペプチド)
ホモロジー (相同性) 検索をご希望の場合 >>>
ホモロジー検索をご要望の際は、ご希望のサンプル種のアミノ酸配列とともにお問合せください。
※下記の社内データは、すべて5632 の推奨プロトコールで実験した結果です。
Western Blotting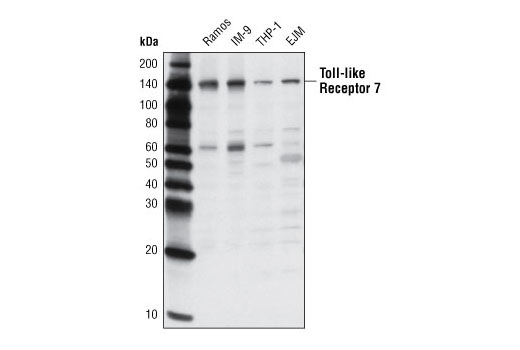 Western blot analysis of extracts from various cell lines using Toll-like Receptor 7 (D7) Rabbit mAb.
Members of the Toll-like receptor (TLR) family, named for the closely related Toll receptor in Drosophila, play a pivotal role in innate immune responses (1-4). TLRs recognize conserved motifs found in various pathogens and mediate defense responses (5-7). Triggering of the TLR pathway leads to the activation of NF-κB and subsequent regulation of immune and inflammatory genes (4). The TLRs and members of the IL-1 receptor family share a conserved stretch of approximately 200 amino acids known as the Toll/Interleukin-1 receptor (TIR) domain (1). Upon activation, TLRs associate with a number of cytoplasmic adaptor proteins containing TIR domains, including myeloid differentiation factor 88 (MyD88), MyD88-adaptor-like/TIR-associated protein (MAL/TIRAP), Toll-receptor-associated activator of interferon (TRIF), and Toll-receptor-associated molecule (TRAM) (8-10). This association leads to the recruitment and activation of IRAK1 and IRAK4, which form a complex with TRAF6 to activate TAK1 and IKK (8,11-14). Activation of IKK leads to the degradation of IκB, which normally maintains NF-κB in an inactive state by sequestering it in the cytoplasm.
TLR7, 8 and 9 form a group of structurally related TLR family members that are are localized to intracellular endosomes (4-6). TLR7 shows highest expression in lung, placenta, and spleen (4). TLR7 mediates responses to a class of synthetic compounds, including imidazoquinolines, guanosine-based drugs that induce anti-viral responses (7). TLR7 responds to ssRNA viruses to activate NF-κB and trigger IFN production (8-10).
Cell Signaling Technology is a trademark of Cell Signaling Technology, Inc.