#5571 Anti-biotin (D5A7) Rabbit mAb (HRP Conjugate)
| | | | | |
| --- | --- | --- | --- | --- |
| #5571S | 1 mL | 29,000 | | |
5571:
用途 (希釈倍率)
ウェスタンブロッティング (1:1,000)、ELISA-P (1:1,000)
特異性・感度
ビオチン化一次抗体の検出に最適化しています。抗ウサギ二次抗体と混ぜないでください (抗ウサギ二次抗体と交差して両抗体の活性が低下する可能性があります)。HRP標識抗ウサギ二次抗体と混ぜる場合 (ビオチン化マーカーと非標識一次抗体の同時検出) は、#7075 Anti-biotin, HRP-linked Antibody を使用してください。
Western Blotting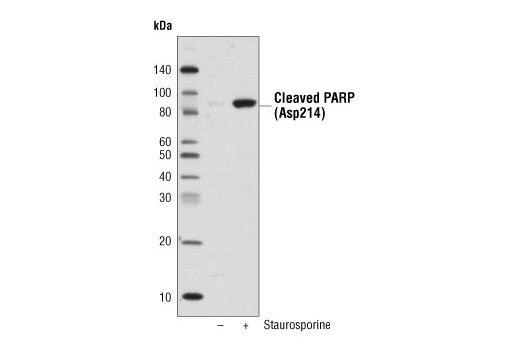 Western blot analysis of extracts from HeLa cells, untreated or treated with Staurosporine #9953 (1 μM, 3 hr) using Cleaved PARP (Asp214) (D64E10) XP® Rabbit mAb (Biotinylated) primary antibody and Anti-Biotin (D5A7) Rabbit mAb (HRP Conjugate) as secondary detection antibody.
ELISA-Peptide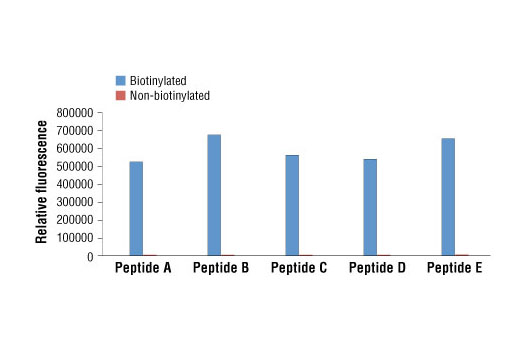 Relative fluorescence of biotinylated and non-biotinylated peptides determined by #5571 Anti-biotin (D5A7) Rabbit mAb (HRP Conjugate) detection using #7003 LumiGLO® Reagent and 20X Peroxide reagents.
ELISA-Peptide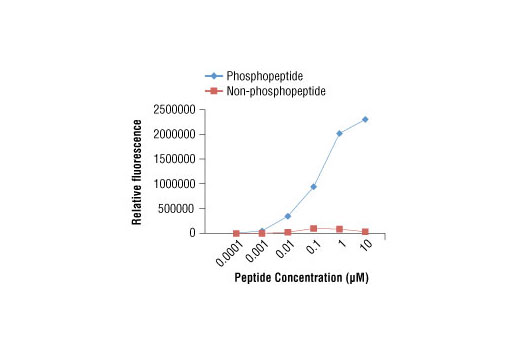 Chemiluminescent detection of phosphorylated and non-phosphorylated Met peptides with #4033 Phospho-Met (Tyr1234/1235) (D26) XP® Rabbit mAb (Biotinylated) in conjunction with #5571 Anti-biotin (D5A7) Rabbit mAb (HRP Conjugate).
Chemiluminescence systems have emerged as the best all-around method for western blot detection. They eliminate the hazards associated with radioactive materials and toxic chromogenic substrates. The speed and sensitivity of these methods are unequalled by traditional alternatives, and because results are generated on film, it is possible to record and store data permanently. Blots detected with chemiluminescent methods are easily stripped for subsequent reprobing with additional antibodies. HRP-conjugated secondary antibodies are utilized in conjunction with specific chemiluminescent substrates to generate the light signal. HRP conjugates have a very high turnover rate, yielding good sensitivity with short reaction times.
LumiGLO is a registered trademark of Kirkegaard & Perry Laboratories.
Cell Signaling Technology is a trademark of Cell Signaling Technology, Inc.