#5546 Ubiquityl-Histone H2B (Lys120) (D11) XP® Rabbit mAb
CSTコード
包装

希望納入価格 (円)

ご登録代理店情報

カスタマー情報にご登録いただいた代理店を表示しています。

ご登録代理店の変更は

こちら

。

#5546S
100 μL
72,000
#5546T
20 μL
39,000


Custom Antibody Sampler Kitの構成品を選択できます。
5本以上を選択し、ページ右上のCartから製品確定書を発行してください。
尚、構成品の単品販売は致しておりません。
感度
分子量 (kDa)
抗体の由来
貯法
内在性
23
Rabbit IgG
-20℃
| 種交差性 (社内試験済) | |
| --- | --- |
| ヒト、マウス、ラット、サル | - |
ウェスタンブロッティング (1:1000)、免疫蛍光細胞染色 (IF-IC) (1:1600)、クロマチン免疫沈降 (1:200)
特異性・感度
内在性レベルのLys120 がユビキチン化されたHistone H2B タンパク質を検出します。他のユビキチン化タンパク質あるいはフリーのユビキチンとは交差しません。
使用抗原
ヒトのLys120 がモノユビキチン化されたHistone H2B タンパク質のC末端領域 (合成ペプチド)
ホモロジー (相同性) 検索をご希望の場合 >>>
ホモロジー検索をご要望の際は、ご希望のサンプル種のアミノ酸配列とともにお問合せください。
※下記の社内データは、すべて5546 の推奨プロトコールで実験した結果です。
Western Blotting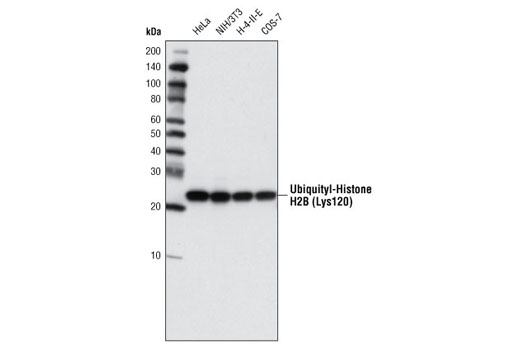 Western blot analysis of extracts from various cell lines using Ubiquityl-Histone H2B (Lys120) (D11) XP® Rabbit mAb.
IF-IC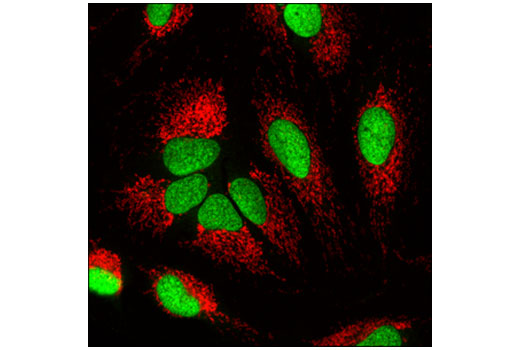 Confocal immunofluorescent analysis of HeLa cells using Ubiquityl-Histone H2B (Lys120) (D11) XP® Rabbit mAb (green) and COX IV (4D11-B3-E8) Mouse mAb #11967 (red).
Chromatin IP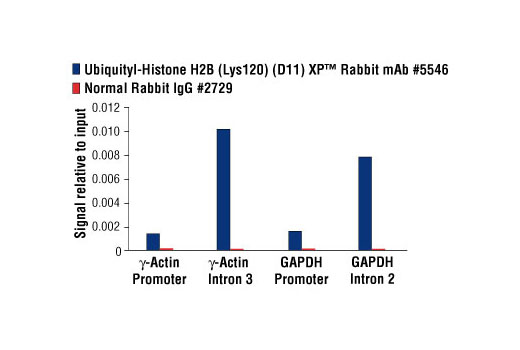 Chromatin immunoprecipitations were performed with cross-linked chromatin from HeLa cells and either Ubiquityl-Histone H2B (Lys120) (D11) XP® Rabbit mAb or Normal Rabbit IgG #2729 using SimpleChIP® Enzymatic Chromatin IP Kit (Magnetic Beads) #9003. The enriched DNA was quantified by real-time PCR using SimpleChIP® Human γ-Actin Promoter Primers #5037, SimpleChIP® Human γ-Actin Intron 3 Primers #5047, SimpleChIP® Human GAPDH Promoter Primers #4471, and SimpleChIP® Human GAPDH Intron 2 Primers #4478. The amount of immunoprecipitated DNA in each sample is represented as signal relative to the total amount of input chromatin, which is equivalent to one.
The nucleosome, made up of four core histone proteins (H2A, H2B, H3 and H4), is the primary building block of chromatin. Originally thought to function as a static scaffold for DNA packaging, histones have now been shown to be dynamic proteins, undergoing multiple types of post-translational modifications, including acetylation, phosphorylation, methylation, and ubiquitylation (1). Ubiquitin is a conserved 76 amino acid peptide unit that can be covalently linked to many cellular proteins by the ubiquitylation process. Three components are involved in this protein-ubiquitin conjugation process. Ubiquitin is first activated by forming a thiolester complex with the activation component E1; the activated ubiquitin is subsequently transferred to the ubiquitin-carrier protein E2, then from E2 to ubiquitin ligase E3 for final delivery to the epsilon-NH2 of the target protein lysine residue (2). Histone H2B is mono-ubiquitylated on lysine 120 during transcriptional activation by the RAD6 E2 protein in conjunction with the BRE1A/BRE1B E3 ligase (also known as RNF20/RNF40) (3). The RAD6/BRE1 complex is recruited to gene promoters during activation by the PAF complex, an RNA polymerase II-associated protein complex that regulates transcriptional elongation (3-5). Mono-ubiquitylated histone H2B lysine 120 is associated with the transcribed region of active genes (3,6). Mono-ubiquitylation of histone H2B stimulates transcriptional elongation by facilitating FACT-dependent chromatin remodeling (7,8). In addition, it is essential for subsequent methylation of histone H3 lysines 4 and 79, two additional histone modifications that regulate transcriptional initiation and elongation (9). Interestingly, de-ubiquitylation of histone H2B lysine 120 by USP22, a subunit of the human SAGA histone acetyltransferase complex, is a required step in transcriptional activation (10). Thus, it appears that the ubiquitylation state of histone H2B is dynamic during transcription and may serve as an intermediate step in transcriptional activation.
XP is a registered trademark of Cell Signaling Technology, Inc.
Cell Signaling Technology is a trademark of Cell Signaling Technology, Inc.