#5332 Desmin (D93F5) XP® Rabbit mAb
CSTコード
包装

希望納入価格 (円)

ご登録代理店情報

カスタマー情報にご登録いただいた代理店を表示しています。

ご登録代理店の変更は

こちら

。

#5332S
100 μL
61,000
#5332T
20 μL
39,000


Custom Antibody Sampler Kitの構成品を選択できます。
5本以上を選択し、ページ右上のCartから製品確定書を発行してください。
尚、構成品の単品販売は致しておりません。
DESMIN 製品一覧 | #5332 が入っているAntibody Sampler キット一覧
感度
分子量 (kDa)
抗体の由来
貯法
内在性
53
Rabbit IgG
-20℃
| 種交差性 (社内試験済) | |
| --- | --- |
| ヒト、マウス、ラット | サル |
ウェスタンブロッティング (1:1000)、免疫蛍光細胞染色 (IF-IC) (1:100)、免疫蛍光染色 (IF-F) (1:100)
特異性・感度
内在性レベルのDesmin タンパク質を検出します。
使用抗原
ヒトのDesmin タンパク質のC末端領域 (合成ペプチド)
ホモロジー (相同性) 検索をご希望の場合 >>>
ホモロジー検索をご要望の際は、ご希望のサンプル種のアミノ酸配列とともにお問合せください。
※下記の社内データは、すべて5332 の推奨プロトコールで実験した結果です。
Western Blotting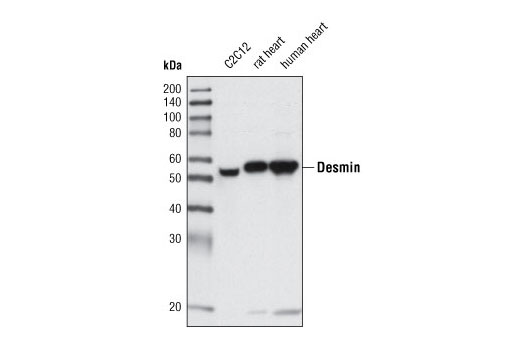 Western blot analysis of extracts from C2C12 cells, rat heart and human heart using Desmin (D93F5) XP® Rabbit mAb.
IF-IC
Confocal immunofluorescent analysis of C2C12 cells (left) and mouse heart tissue (right) using Desmin (D93F5) XP® Rabbit mAb (green). Blue pseudocolor = DRAQ 5® #4084 (fluorescent DNA dye).
The cytoskeleton consists of three types of cytosolic fibers: microfilaments (actin filaments), intermediate filaments and microtubules. Major types of intermediate filaments are distinguished and expressed in particular cell types: cytokeratins (epithelial cells), glial fibrillary acidic protein or GFAP (glial cells), desmin (skeletal, visceral and certain vascular smooth muscle cells), vimentin (mesenchyme origin) and neurofilaments (neurons). GFAP and vimentin form intermediate filaments in astroglial cells and modulate their motility and shape (1). In particular, vimentin filaments are present at early developmental stages, while GFAP filaments are characteristic of differentiated and mature brain astrocytes. Thus, GFAP is commonly used as a marker for intracranial and intraspinal tumors arising from astrocytes (2). Vimentin is present in sarcomas, but not carcinomas, and its expression is examined relative to other markers to distinguish between the two forms of neoplasm (3). Desmin is a myogenic marker expressed in early development that forms a network of filaments that extends across the myofibril and surrounds Z discs. The desmin cytoskeleton provides a connection among myofibrils, organelles and the cytoskeleton (4). Desmin knockout mice develop cardiomyopathy, skeletal and smooth muscle defects (5). In humans, desmin related myopathies might be caused by mutations in the corresponding desmin gene or in proteins with which desmin interacts, including αB-crystallin and synemin. Disorganized desmin filaments and the accumulation of protein aggregates comprised predominantly of desmin characterize desmin-related myopathies (reviewed in 6,7).
XP is a registered trademark of Cell Signaling Technology, Inc.
Cell Signaling Technology is a trademark of Cell Signaling Technology, Inc.