#5267 Phospho-Stat4 (Tyr693) Antibody
| | | | | |
| --- | --- | --- | --- | --- |
| #5267S | 100 μL | 67,000 | | |
感度
分子量 (kDa)
抗体の由来
貯法
内在性
81
Rabbit
-20℃
ウェスタンブロッティング (1:1000)、免疫沈降 (1:100)、クロマチン免疫沈降 (1:25)
特異性・感度
内在性レベルのTyr693 がリン酸化されたStat4 タンパク質を検出します。
使用抗原
ヒトのStat4 タンパク質のTyr693 周辺領域 (合成リン酸化ペプチド)
ホモロジー (相同性) 検索をご希望の場合 >>>
ホモロジー検索をご要望の際は、ご希望のサンプル種のアミノ酸配列とともにお問合せください。
※下記の社内データは、すべて5267 の推奨プロトコールで実験した結果です。
Western Blotting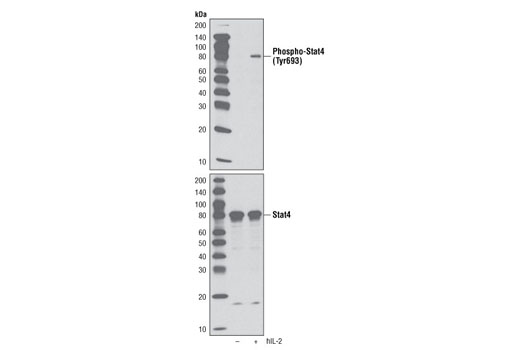 Western blot analysis of extracts from NK-92 cells, untreated or treated with Human Interleukin-2 (hIL-2) #8907 (2ng/ml, 15 minutes), using Phospho-Stat4 (Tyr693) Antibody (upper) or Stat4 (C46B10) Rabbit mAb #2653 (lower).
Chromatin IP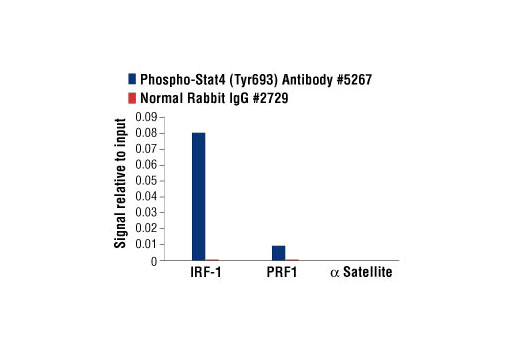 Chromatin immunoprecipitations were performed with cross-linked chromatin from NK-92 cells starved of IL-2 overnight then treated with IL-12 (10ng/ml) for 4h and either Phospho-Stat4 (Tyr693) Antibody #5267 or Normal Rabbit IgG #2729 using SimpleChIP® Enzymatic Chromatin IP Kit (Magnetic Beads) #9003. The enriched DNA was quantified by real-time PCR using human IRF-1 promoter primers, SimpleChIP® Human PRF1 Promoter Primers #9014, and SimpleChIP® Human α Satellite Repeat Primers #4486. The amount of immunoprecipitated DNA in each sample is represented as signal relative to the total amount of input chromatin, which is equivalent to one.
The Jak-Stat signaling pathway is utilized by a large number of cytokines, growth factors, and hormones (1). Receptor-mediated tyrosine phosphorylation of Jak family members triggers phosphorylation of Stat proteins, resulting in their nuclear translocation, binding to specific DNA elements, and subsequent activation of transcription. The remarkable range and specificity of responses regulated by the Stats is determined, in part, by the tissue-specific expression of different cytokine receptors, Jaks, and Stats, as well as by the combinatorial coupling of various Stat members to different receptors (2). Stat4 is predominantly expressed in the spleen, thymus, and testis and has been most extensively investigated as the mediator of IL-12 responses (3-8). Activation of Stat4 is associated with phosphorylation at Tyr693 (9).
Stat4 is activated in response to IL-2 in natural killer (NK) cells, but not in T-cells (10).
SimpleChIP is a registered trademark of Cell Signaling Technology, Inc.
Cell Signaling Technology is a trademark of Cell Signaling Technology, Inc.