#5203 AKAP1 (D9C5) XP® Rabbit mAb
CSTコード
包装

希望納入価格 (円)

ご登録代理店情報

カスタマー情報にご登録いただいた代理店を表示しています。

ご登録代理店の変更は

こちら

。

#5203S
100 μL
61,000
#5203T
20 μL
39,000


Custom Antibody Sampler Kitの構成品を選択できます。
5本以上を選択し、ページ右上のCartから製品確定書を発行してください。
尚、構成品の単品販売は致しておりません。
感度
分子量 (kDa)
抗体の由来
貯法
内在性
149 kDa (H), 130 kDa (M), 121 kDa (R)
Rabbit IgG
-20℃
| 種交差性 (社内試験済) | |
| --- | --- |
| ヒト、マウス、ラット | - |
ウェスタンブロッティング (1:1000)、免疫沈降 (1:50)、免疫蛍光細胞染色 (IF-IC) (1:50)
特異性・感度
内在性レベルのAKAP1 タンパク質を検出します。
使用抗原
ヒトのAKAP1 タンパク質のVal630 周辺領域 (合成ペプチド)
ホモロジー (相同性) 検索をご希望の場合 >>>
ホモロジー検索をご要望の際は、ご希望のサンプル種のアミノ酸配列とともにお問合せください。
※下記の社内データは、すべて5203 の推奨プロトコールで実験した結果です。
Western Blotting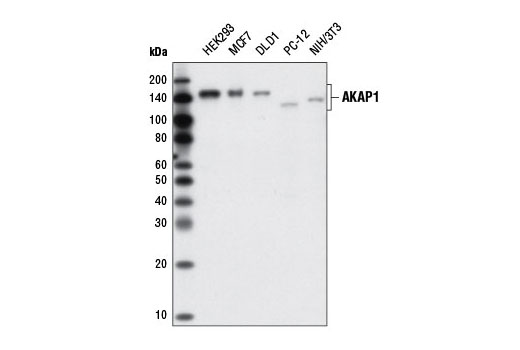 Western blot analysis of extracts from various cell lines using AKAP1 (D9C5) XP® Rabbit mAb.
AKAPs (A-kinase anchoring proteins), as their name implies, are a family of scaffolding proteins that bind regulatory subunits of Protein Kinase A (PKA) thus localizing PKA activity to distinct regions of the cell (1). Beyond a common amphipathic alpha-helix which is responsible for recruiting the PKA regulatory subunit (RIα, RIIα, RIβ, or RIIβ), individual AKAPs contain additional domains responsible for the recrutiment of additional signaling proteins (phosphodiesterases, phosphatases, cytoskeletal components, other kinase, etc.) or restricting the AKAP to a specific subcellular location (1). AKAP1, also known as AKAP149 in human, AKAP121 in rat, or D-AKAP in mouse is a dual-specificity AKAP which can bind to both RI and RII subunits of PKA with similar affinity (2,3). Originally thought to be predominantly restricted to the mitochondria, growing evidence suggests that localization of AKAP1 can be regulated in part by alternative splicing events and that AKAP1 may be present in the endoplasmic reticulum-nuclear envelope membrane network (4-6). Peri-nuclear localization, along with the fact that AKAP1 interacts with RNA via one of two nucleotide-binding domains (K homology (KH) and Tudor) have lead some to suggest that AKAP1 may play a role in RNA metabolism (7,8). In addition to PKA-RI and -RII, AKAP1 directly interacts with PP1 in a phosphorylation dependent manner and nucleates a complex containing PP2Ac, PKA and RSK1 which modulates RSK1 localization and activity (9-12).
DRAQ5 is a registered trademark of Biostatus Limited.
XP is a registered trademark of Cell Signaling Technology, Inc.
Cell Signaling Technology is a trademark of Cell Signaling Technology, Inc.