#4999 Phospho-RelB (Ser552) Antibody
| | | | | |
| --- | --- | --- | --- | --- |
| #4999S | 100 μL | 67,000 | | |
RELB XP®モノクローナル抗体 | RELB 製品一覧 | NF-κB 抗体比較
感度
分子量 (kDa)
抗体の由来
貯法
内在性
70
Rabbit
-20℃
| 種交差性 (社内試験済) | |
| --- | --- |
| ヒト、マウス | ラット、サル、ウシ、イヌ |
ウェスタンブロッティング (1:1000)、免疫沈降 (1:100)、免疫蛍光細胞染色 (IF-IC) (1:100)、フローサイトメトリー (1:400)
特異性・感度
内在性レベルのSer552 がリン酸化されたRelB タンパク質を検出します。
使用抗原
マウスのRelB タンパク質のSer552 周辺領域 (合成リン酸化ペプチド)
ホモロジー (相同性) 検索をご希望の場合 >>>
ホモロジー検索をご要望の際は、ご希望のサンプル種のアミノ酸配列とともにお問合せください。
※下記の社内データは、すべて4999 の推奨プロトコールで実験した結果です。
Western Blotting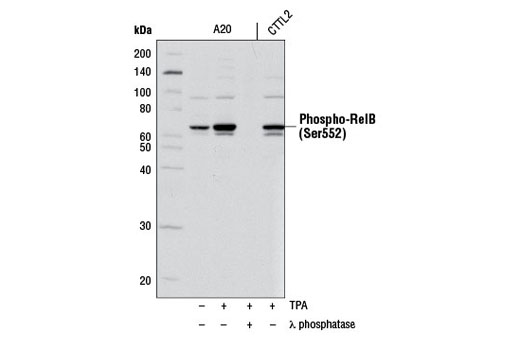 Western blot analysis of extracts from A20 and CTTL2 cells, untreated or treated with TPA #4174 (200nM, 30 minutes) alone or with λ phosphatase, using Phospho-RelB (Ser552) Antibody.
IF-IC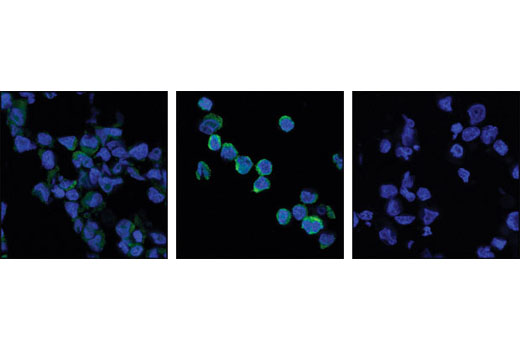 Confocal immunofluorescent analysis of Raji cells, serum-starved (left), treated with TPA (Phorbol-12-Myristate-13-Acetate) #9905 (center) or λ phosphatase-treated (right), using Phospho-RelB (Ser552) Antibody (green). Blue pseudocolor = DRAQ5® #4084 (fluorescent DNA dye).
Flow Cytometry
Flow cytometric analysis of Raji cells, untreated (blue) or treated with TPA (200nM, 30 min; green) using Phospho-RelB (Ser552) Antibody (solid lines) or concentration-matched Rabbit (DA1E) mAb IgG XP® Isotype Control #3900 (dashed lines). Anti-rabbit IgG (H+L), F(ab')2 Fragment (Alexa Fluor® 488 Conjugate) #4412 was used as a secondary antibody.
Transcription factors of the nuclear factor κB (NF-κB)/Rel family play a pivotal role in inflammatory and immune responses (1,2). There are five family members in mammals: RelA, c-Rel, RelB, NF-κB1 (p105/p50), and NF-κB2 (p100/p52). Both p105 and p100 are proteolytically processed by the proteasome to produce p50 and p52, respectively. Rel proteins bind p50 and p52 to form dimeric complexes that bind DNA and regulate transcription. In unstimulated cells, NF-κB is sequestered in the cytoplasm by IκB inhibitory proteins (3-5). NF-κB-activating agents can induce the phosphorylation of IκB proteins, targeting them for rapid degradation through the ubiquitin-proteasome pathway and releasing NF-κB to enter the nucleus where it regulates gene expression (6-8). NIK and IKKα (IKK1) regulate the phosphorylation and processing of NF-κB2 (p100) to produce p52, which translocates to the nucleus (9-11).
RelB, which is generally activated by non-canonical signaling, forms heterodimers with either p50 or p52 NF-κB subunits to regulate transcription (12,13). RelB null mice are significantly impaired in inflammatory responses and hematopoietic differentiation (14,15). Phosphorlyation at Thr84 and Ser552 results in proteosomal degradation (16).
DRAQ5 is a registered trademark of Biostatus Limited.
Cell Signaling Technology is a trademark of Cell Signaling Technology, Inc.