#4880 Phospho-DBC1 (Thr454) Antibody
| | | | | |
| --- | --- | --- | --- | --- |
| #4880S | 100 μL | 66,000 | | |
感度
分子量 (kDa)
抗体の由来
貯法
内在性
130
Rabbit
-20℃
ウェスタンブロッティング (1:1000)、免疫沈降 (1:25)、免疫蛍光細胞染色 (IF-IC) (1:400)
特異性・感度
内在性レベルのThr454 がリン酸化されたDBC1 タンパク質を検出します。
使用抗原
ヒトのDBC1 タンパク質のThr454 周辺領域 (合成リン酸化ペプチド)
ホモロジー (相同性) 検索をご希望の場合 >>>
ホモロジー検索をご要望の際は、ご希望のサンプル種のアミノ酸配列とともにお問合せください。
※下記の社内データは、すべて4880 の推奨プロトコールで実験した結果です。
Western Blotting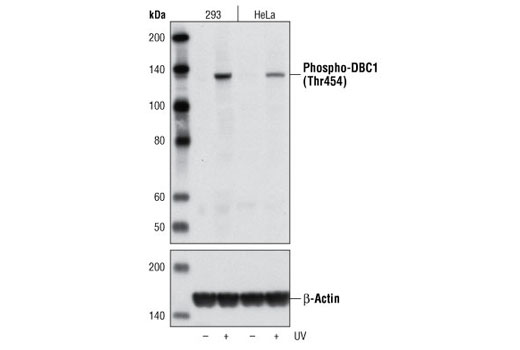 Western blot analysis of extracts from 293 and HeLa cell lines, untreated or UV-treated (100 J/m2 and 4 hour recovery), using Phospho-DBC1 (Thr454) Antibody (upper) or β-actin Antibody #4967 (lower).
Deleted in breast cancer gene 1 protein (DBC1) was originally identified by its localization to a region of chromosome 8p21 that is homozygously deleted in breast cancer (1). DBC1 is a large, nuclear protein with multiple functions in cell survival. It binds directly to the estrogen receptor α (ERα) hormone-binding domain in a ligand-independent manner and may be a key determinant of ligand-independent ERα expression and survival in human breast cancer cells (2). DBC1 can promote p53-mediated apoptosis by binding to and inhibiting the deacetylase activity of SirT1, resulting in increased p53 acetylation levels and activity (3). DBC1 may be an important regulator of heterochromatin formation as it binds SUV39H1 and inhibits its histone methyltransferase activity (4). Caspase-dependent processing activates the pro-apoptotic activity of DBC1 during Tumor Necrosis Factor-α (TNF-α)-mediated cell death signaling (5). This processing of DBC1 in response to TNF-α is an early event in the onset of apoptosis and results in relocalization of DBC1 to the cytoplasm. Overexpression of the processed, cytoplasmic form of DBC1 results in mitochondrial clustering and matrix condensation and sensitizes cells to TNF-α-mediated apoptosis.
The threonine residue at 454 of DBC1 is phosphorylated in an ATM/ATR-dependent manner in response to DNA damage (6,7). Phospho-DBC1 (Thr454) Antibody is directed at a site that was identified at Cell Signaling Technology (CST) using PhosphoScan®, CST's LC-MS/MS platform for modification site discovery. Phosphorylation at Thr454 was discovered using an ATM/ATR substrate antibody and was shown to be induced by UV treatment. Please visit PhosphoSitePlus®, CST's modification site knowledgebase, at www.phosphosite.org for more information.
Cell Signaling Technology is a trademark of Cell Signaling Technology, Inc.