#4867 Phospho-DRP1 (Ser637) Antibody
| | | | | |
| --- | --- | --- | --- | --- |
| #4867S | 100 μL | 67,000 | | |
感度
分子量 (kDa)
抗体の由来
貯法
内在性
78-82
Rabbit
-20℃
| 種交差性 (社内試験済) | |
| --- | --- |
| ラット | ヒト、マウス、サル |
ウェスタンブロッティング (1:1000)、免疫沈降 (1:100)
特異性・感度
内在性レベルのSer637 がリン酸化されたDRP1 タンパク質を検出します。
使用抗原
ヒトのDRP1 タンパク質のSer637 周辺領域 (合成リン酸化ペプチド)
ホモロジー (相同性) 検索をご希望の場合 >>>
ホモロジー検索をご要望の際は、ご希望のサンプル種のアミノ酸配列とともにお問合せください。
※下記の社内データは、すべて4867 の推奨プロトコールで実験した結果です。
Western Blotting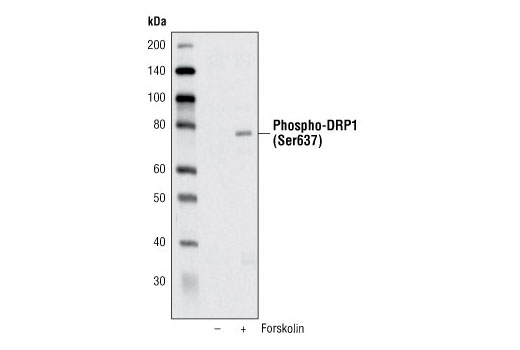 Western blot analysis of extracts from PC-12 cells, untreated or treated with 20uM Forskolin #3828 for 1 hour, using Phospho-DRP1 (Ser637) Antibody.
IP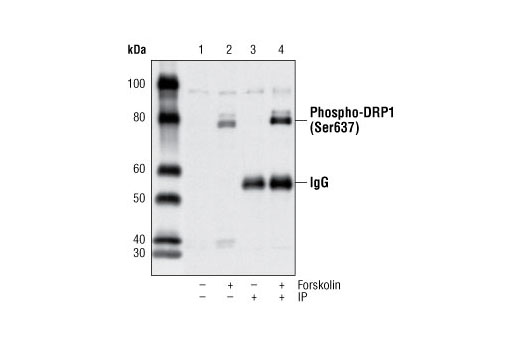 Immunoprecipitation of PC-12 cell lysates, untreated or treated with 20 μM Forskolin #3828 for 1 hour, using Phospho-DRP1 (Ser637) Antibody. The western blot was probed using the same antibody. Lanes 1 and 2 are 5% input.
Dynamin-related protein 1 (DRP1) is a member of the dynamin superfamily of GTPases. Members of this family have diverse cellular functions including vesicle scission, organelle fission, viral resistance, and intracellular trafficking (reviewed in 1). DRP1 affects mitochondrial morphology and is important in mitochondrial and peroxisomal fission in mammalian cells (2-5). The yeast ortholog of DRP1 clusters into a spiral-shaped structure on the mitochondrial membrane at the site of fission (reviewed in 6), and this structure is likely conserved in mammalian cells (3). The division of the mitochondria, which is required for apoptosis, as well as normal cell growth and development is controlled, in part, by the phosphorylation of DRP1 at Ser616 by Cdk1/cyclin B and at Ser637 by protein kinase A (PKA) (reviewed in 6). When phosphorylated at Ser616, DRP1 stimulates mitochondrial fission during mitosis. Conversely, fission is inhibited when DRP1 is phosphorylated at Ser637 (reviewed in 6). Dephosphorylation at Ser637 by calcineurin reverses this inhibition (7). In addition to phosphorylation, sumoylation of DRP1 is also an enhancer of mitochondrial fission (8). Balancing fission and fusion events is essential for proper mitochondrial function. Research studies have demonstrated mitochondrial defects in a variety of neurodegenerative diseases including Alzheimer's disease, Parkinson's disease, and Huntington's disease (reviewed in 6).
Cell Signaling Technology is a trademark of Cell Signaling Technology, Inc.