#4619 Phospho-TrkA (Tyr490)/TrkB (Tyr516) (C35G9) Rabbit mAb
CSTコード
包装

希望納入価格 (円)

ご登録代理店情報

カスタマー情報にご登録いただいた代理店を表示しています。

ご登録代理店の変更は

こちら

。

#4619S
100 μL
66,000
#4619T
20 μL
39,000


Custom Antibody Sampler Kitの構成品を選択できます。
5本以上を選択し、ページ右上のCartから製品確定書を発行してください。
尚、構成品の単品販売は致しておりません。
TRKA/B 製品一覧 | Trk 抗体比較 | #4619 が入っているAntibody Sampler キット一覧
感度
分子量 (kDa)
抗体の由来
貯法
内在性
140
Rabbit IgG
-20℃
ウェスタンブロッティング (1:1000)、免疫沈降 (1:50)
特異性・感度
内在性レベルのTyr490、Tyr516 がそれぞれリン酸化されたTrkA タンパク質とTrkB タンパク質を検出します。未知のチロシン残基がリン酸化されたBcl-Abl タンパク質と交差反応する可能性があります。
使用抗原
ヒトのTrkA タンパク質のTyr490 周辺領域 (合成リン酸化ペプチド)
ホモロジー (相同性) 検索をご希望の場合 >>>
ホモロジー検索をご要望の際は、ご希望のサンプル種のアミノ酸配列とともにお問合せください。
※下記の社内データは、すべて4619 の推奨プロトコールで実験した結果です。
Western Blotting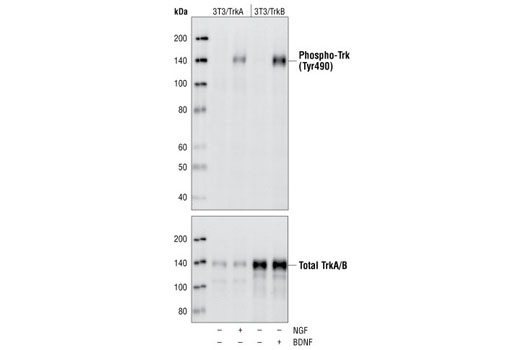 Western blot analysis of extracts from NIH/3T3 cells stably transfected with either TrkA or TrkB, left untreated or treated with NGF or BDNF, respectively, using Phospho-TrkA (Tyr490)/TrkB (Tyr516) (C35G9) Rabbit mAb (upper) and pooled TrkA/TrkB antibodies (lower).
The family of Trk receptor tyrosine kinases consists of TrkA, TrkB, and TrkC. While the sequence of these family members is highly conserved, they are activated by different neurotrophins: TrkA by NGF, TrkB by BDNF or NT4, and TrkC by NT3 (1). Neurotrophin signaling through these receptors regulates a number of physiological processes, such as cell survival, proliferation, neural development, and axon and dendrite growth and patterning (1). In the adult nervous system, the Trk receptors regulate synaptic strength and plasticity. TrkA regulates proliferation and is important for development and maturation of the nervous system (2). Phosphorylation at Tyr490 is required for Shc association and activation of the Ras-MAP kinase cascade (3,4). Residues Tyr674/675 lie within the catalytic domain, and phosphorylation at these sites reflects TrkA kinase activity (3-6). Point mutations, deletions, and chromosomal rearrangements (chimeras) cause ligand-independent receptor dimerization and activation of TrkA (7-10). TrkA is activated in many malignancies including breast, ovarian, prostate, and thyroid carcinomas (8-13). Research studies suggest that expression of TrkA in neuroblastomas may be a good prognostic marker as TrkA signals growth arrest and differentiation of cells originating from the neural crest (10).
The phosphorylation sites are conserved between TrkA and TrkB: Tyr490 of TrkA corresponds to Tyr512 in TrkB, and Tyr674/675 of TrkA to Tyr706/707 in TrkB of the human sequence (14). TrkB is overexpressed in tumors, such as neuroblastoma, prostate adenocarcinoma, and pancreatic ductal adenocarcinoma (15). Research studies have shown that in neuroblastomas, overexpression of TrkB correlates with an unfavorable disease outcome when autocrine loops signaling tumor survival are potentiated by additional overexpression of brain-derived neurotrophic factor (BDNF) (16-18). An alternatively spliced truncated TrkB isoform lacking the kinase domain is overexpressed in Wilms' tumors and this isoform may act as a dominant-negative regulator of TrkB signaling (17).
Cell Signaling Technology is a trademark of Cell Signaling Technology, Inc.
U.S. Patent No. 7,429,487, foreign equivalents, and child patents deriving therefrom.