#4174 TPA (12-O-Tetradecanoylphorbol-13-Acetate)
| | | | | |
| --- | --- | --- | --- | --- |
| #4174S | 1 mg | 18,000 | | |
概要
TPA は強力な発がんプロモーターで、プロテインキナーゼ C に結合、活性化して細胞や組織にさまざまな作用を引き起こします。
Western Blotting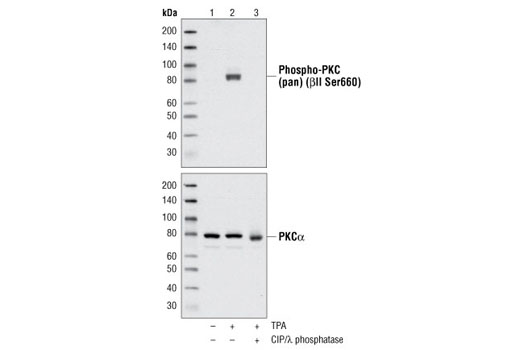 Western blot analysis of extracts from serum-starved 293 cells, untreated (lane 1), stimulated with TPA treatment (lanes 2 & 3), and treated with CIP and λ phosphatase (lane 3), using Phospho-PKC (pan) (βII Ser660) Antibody #9371 or PKCα Antibody #2056.
TPA (12-O-tetradecanoylphorbol-13-acetate) / PMA (phorbol-12-myristate-13-acetate) is the most commonly used phorbol ester. It binds and activates protein kinase C, causing a wide range of effects in cells and tissues (1,2). TPA has been demonstrated to be a potent tumor promoter in mouse skin (3). Conversely, it has been shown to be an effective cancer therapeutic agent in myelocytic leukemia patients, and has been indicated as a potential colorectal cancer therapeutic (4-5). TPA has also been shown to increase white blood cell and neutrophil counts in solid tumor cancer patients (6).
Cell Signaling Technology is a trademark of Cell Signaling Technology, Inc.