#4108 LC3A/B Antibody
| | | | | |
| --- | --- | --- | --- | --- |
| #4108S | 100 μL | 56,000 | | |
感度
分子量 (kDa)
抗体の由来
貯法
内在性
14, 16
Rabbit
-20℃
| 種交差性 (社内試験済) | |
| --- | --- |
| ヒト、マウス、ラット | サル、ニワトリ、アフリカツメガエル、ゼブラフィッシュ、イヌ |
ウェスタンブロッティング (1:1000)、免疫蛍光細胞染色 (IF-IC) (1:200)、フローサイトメトリー (1:50)
特異性・感度
内在性レベルのLC3A とLC3B タンパク質を検出します。LC3C タンパク質と交差反応する可能性があります。LC3A/B タンパク質のType Ⅱ 型に強い反応性を示します。
使用抗原
LC3B タンパク質のGly40 周辺領域 (合成ペプチド)
ホモロジー (相同性) 検索をご希望の場合 >>>
ホモロジー検索をご要望の際は、ご希望のサンプル種のアミノ酸配列とともにお問合せください。
※下記の社内データは、すべて4108 の推奨プロトコールで実験した結果です。
Western Blotting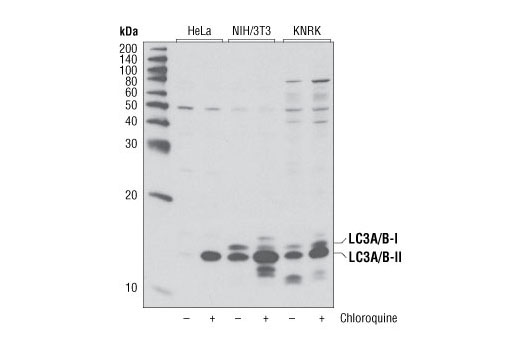 Western blot analysis of extracts from various cell lines, untreated or treated with chloroquine (50 μM, overnight) using LC3A/B Antibody.
IF-IC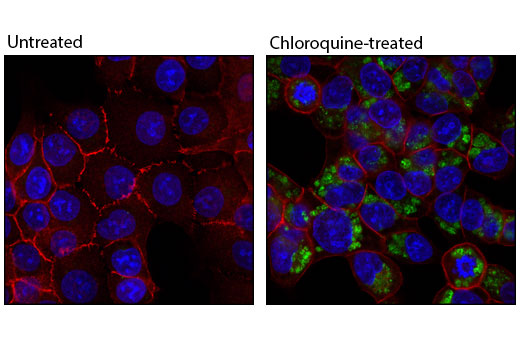 Confocal immunofluorescent analysis of HCT-116 cells, untreated (left) or choroquine-treated (50 uM, overnight; right) using LC3A/B Antibody (green) and β-Catenin (L54E2) Mouse mAb (Alexa Fluor® 555 Conjugate) #5612 (red). Blue pseudocolor = DRAQ5® #4084 (fluorescent DNA dye).
Flow Cytometry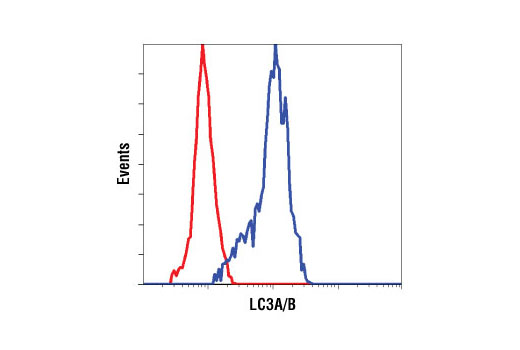 Flow cytometric analysis of Hela cells using LC3A/B Antibody (blue) compared to a nonspecific negative control antibody (red).
Autophagy is a catabolic process for the autophagosomic-lysosomal degradation of bulk cytoplasmic contents (1,2). Autophagy is generally activated by conditions of nutrient deprivation, but it has also been associated with a number of physiological processes including development, differentiation, neurodegenerative diseases, infection, and cancer (3). Autophagy marker Light Chain 3 (LC3) was originally identified as a subunit of microtubule-associated proteins 1A and 1B (termed MAP1LC3) (4) and subsequently found to contain similarity to the yeast protein Apg8/Aut7/Cvt5 critical for autophagy (5). Three human LC3 isoforms (LC3A, LC3B, and LC3C) undergo post-translational modifications during autophagy (6-9). Cleavage of LC3 at the carboxy terminus immediately following synthesis yields the cytosolic LC3-I form. During autophagy, LC3-I is converted to LC3-II through lipidation by a ubiquitin-like system involving Atg7 and Atg3 that allows for LC3 to become associated with autophagic vesicles (6-10). The presence of LC3 in autophagosomes and the conversion of LC3 to the lower migrating form, LC3-II, have been used as indicators of autophagy (11).
DRAQ5 is a registered trademark of Biostatus Limited.
Cell Signaling Technology is a trademark of Cell Signaling Technology, Inc.