#4028 Phospho-SATB1 (Ser47) Antibody
| | | | | |
| --- | --- | --- | --- | --- |
| #4028S | 100 μL | 66,000 | | |
感度
分子量 (kDa)
抗体の由来
貯法
内在性
100
Rabbit
-20℃
| 種交差性 (社内試験済) | |
| --- | --- |
| ヒト、マウス、ラット | サル、ウシ、ウマ |
特異性・感度
内在性レベルのSer47 がリン酸化されたSATB1 タンパク質を検出します。
使用抗原
ヒトのSATB1 タンパク質のSer47 周辺領域 (合成リン酸化ペプチド)
ホモロジー (相同性) 検索をご希望の場合 >>>
ホモロジー検索をご要望の際は、ご希望のサンプル種のアミノ酸配列とともにお問合せください。
※下記の社内データは、すべて4028 の推奨プロトコールで実験した結果です。
Western Blotting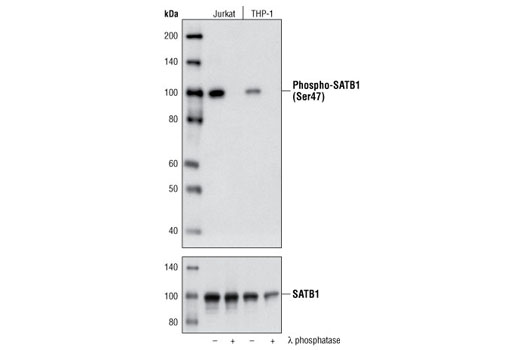 Western blot analysis of extracts from Jurkat and THP-1 cell lines using Phospho-SATB1 (Ser47) Antibody (upper) or SATB1 (L745) Antibody #3650 (lower). Antibody phospho-specificity was determined by treating cell extracts with λ phosphatase.
Special AT-rich binding protein 1 (SATB1) functions as both a global chromatin organizer and a gene-specific transcription factor (1). SATB1 cooperates with promyelocytic leukemia protein (PML) to regulate global chromatin architecture by organizing chromatin into distinct loops via periodic anchoring of matrix attachment regions (MARs) in DNA to the nuclear matrix (1-3). In addition, SATB1 recruits multiple chromatin-remodeling proteins that contribute to specific gene activation and repression, including the chromatin remodeling enzymes ACF and ISWI, the histone deacetylase HDAC1, and the histone acetyltransferases PCAF and p300/CBP (4-6). Phosphorylation of SATB1 on Ser185 by protein kinase C regulates its interaction with HDAC1 and PCAF. While unphosphorylated SATB1 binds to PCAF, phosphorylated SATB1 preferentially binds to HDAC1 (6). Acetylation of SATB1 on Lys136 by PCAF impairs its DNA binding activity, thereby removing SATB1 from gene promoters (6). SATB1 is expressed predominantly in thymocytes and is involved in gene regulation during T cell activation (1). SATB1 is also expressed in metastatic breast cancer cells and is a potential prognostic marker and therapeutic target for metastatic breast cancer (7). In a mouse model system, RNAi-mediated knockdown of SATB1 reversed tumorigenesis by inhibiting tumor growth and metastasis, while ectopic expression of SATB1 in non-metastatic breast cancer cells produced invasive tumors.
Phospho-SATB1 (Ser47) Antibody is directed at a site that was identified at Cell Signaling Technology (CST) using PhosphoScan®, CST's LC-MS/MS platform for modification site discovery. Phosphorylation at Ser47 was discovered using an Akt substrate antibody. The function of this phosphorylation event is not known. Please visit PhosphoSitePlus™, CST's modification site knowledgebase, at www.phosphosite.org for more information.
Cell Signaling Technology is a trademark of Cell Signaling Technology, Inc.