#3970 Phospho-EphA2 (Tyr594) Antibody
| | | | | |
| --- | --- | --- | --- | --- |
| #3970S | 100 μL | 66,000 | | |
感度
分子量 (kDa)
抗体の由来
貯法
内在性
135
Rabbit
-20℃
特異性・感度
内在性レベルのTyr594 がリン酸化されたEphA2 タンパク質を検出します。他の活性型タンパク質チロシンキナーゼとは交差しません。
使用抗原
ヒトのEphA2 タンパク質のTyr594 周辺領域 (合成リン酸化ペプチド)
ホモロジー (相同性) 検索をご希望の場合 >>>
ホモロジー検索をご要望の際は、ご希望のサンプル種のアミノ酸配列とともにお問合せください。
※下記の社内データは、すべて3970 の推奨プロトコールで実験した結果です。
Western Blotting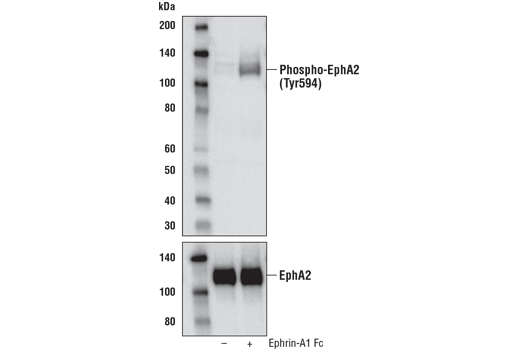 Western blot analysis of extracts from MDA-MB-231 cells either untreated or treated with Ephrin-A1 Fc ligand (100 ng/ml, 5 min; +) using Phospho-EphA2 (Tyr594) Antibody (upper) or EphA2 (D2A2) XP® Rabbit mAb #6997 (lower).
Western Blotting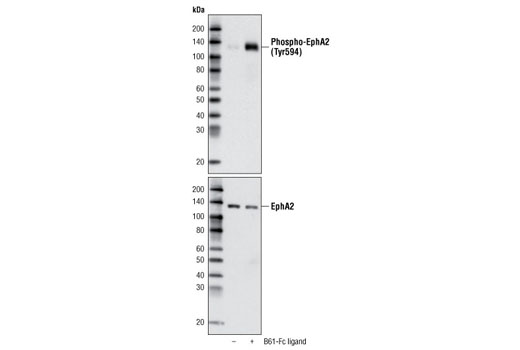 Western blot analysis of cell extracts from 293-T cells, transfected with human EphA2 expression construct, untreated or stimulated with B61-Fc ligand, using Phospho-EphA2 (Tyr594) Antibody (upper) or EphA2 Antibody #3974 (lower).
The Eph receptors are the largest known family of receptor tyrosine kinases (RTKs). They can be divided into two groups based on sequence similarity and on their preference for a subset of ligands: EphA receptors bind to a glycosylphosphatidylinositol-anchored ephrin A ligand; EphB receptors bind to ephrin B proteins that have a transmembrane and cytoplasmic domain (1,2). Research studies have shown that Eph receptors and ligands may be involved in many diseases including cancer (3). Both ephrin A and B ligands have dual functions. As RTK ligands, ephrins stimulate the kinase activity of Eph receptors and activate signaling pathways in receptor-expressing cells. The ephrin extracellular domain is sufficient for this function as long as it is clustered (4). The second function of ephrins has been described as "reverse signaling", whereby the cytoplasmic domain becomes tyrosine phosphorylated, allowing interactions with other proteins that may activate signaling pathways in the ligand-expressing cells (5). Various stimuli can induce tyrosine phosphorylation of ephrin B, including binding to EphB receptors, activation of Src kinase, and stimulation by PDGF and FGF (6). Tyr324 and Tyr327 have been identified as major phosphorylation sites of ephrin B1 in vivo (7).
Phosphorylation of Tyr594 was identified in several tumor cell lines (8,9). It was demonstrated that phosphorylated Tyr588 and Tyr594 of EphA2 provide binding sites for guanine nucleotide exchange factors Vav2 and Vav3, which may be involved in regulation of cell migration (10).
Cell Signaling Technology is a trademark of Cell Signaling Technology, Inc.