#37177 Phospho-LSD1 (Ser131) Antibody
| | | | | |
| --- | --- | --- | --- | --- |
| #37177S | 100 μL | 67,000 | | |
感度
分子量 (kDa)
抗体の由来
貯法
内在性
110
Rabbit
-20℃
ウェスタンブロッティング (1:1000)、免疫沈降 (1:50)
特異性・感度
内在性レベルのSer131 がリン酸化されたLSD1 タンパク質を検出します。
使用抗原
ヒトのLSD1 タンパク質のSer131 周辺領域 (合成リン酸化ペプチド)
ホモロジー (相同性) 検索をご希望の場合 >>>
ホモロジー検索をご要望の際は、ご希望のサンプル種のアミノ酸配列とともにお問合せください。
※下記の社内データは、すべて37177 の推奨プロトコールで実験した結果です。
Western Blotting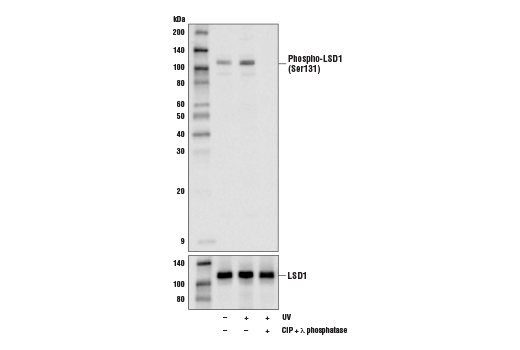 Western blot analysis of extracts from HeLa cells, untreated (-), UV-treated (+), or UV-treated and subsequently treated with calf intestinal phosphatase (CIP) and λ-phosphatase (+), using Phospho-LSD1 (Ser131) Antibody (upper) or LSD1 (C69G12) Rabbit mAb #2184 (lower).
IP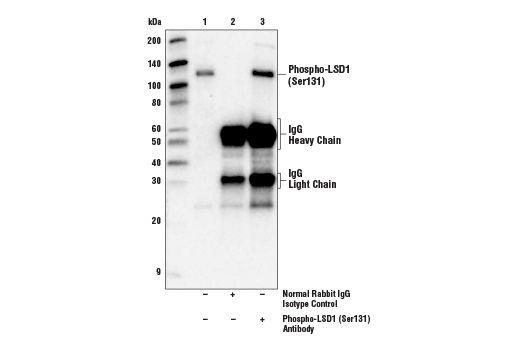 Immunoprecipitation of Phospho-LSD1 (Ser131) from HeLa cell extracts. Lane 1 is 10% input, lane 2 is Normal Rabbit IgG #2729, and lane 3 is Phospho-LSD1 (Ser131) Antibody. Western blot analysis was performed using Phospho-LSD1 (Ser131) Antibody.
Lysine-specific demethylase 1 (LSD1; also known as AOF2 and BHC110) is a nuclear amine oxidase homolog that acts as a histone demethylase and transcription cofactor (1). Gene activation and repression is specifically regulated by the methylation state of distinct histone protein lysine residues. For example, methylation of histone H3 at Lys4 facilitates transcriptional activation by coordinating the recruitment of BPTF, a component of the NURF chromatin remodeling complex, and WDR5, a component of multiple histone methyltransferase complexes (2,3). In contrast, methylation of histone H3 at Lys9 facilitates transcriptional repression by recruiting HP1 (4,5). LSD1 is a component of the CoREST transcriptional co-repressor complex that also contains CoREST, CtBP, HDAC1 and HDAC2. As part of this complex, LSD1 demethylates mono-methyl and di-methyl histone H3 at Lys4 through a FAD-dependent oxidation reaction to facilitate neuronal-specific gene repression in non-neuronal cells (1,6,7). In contrast, LSD1 associates with androgen receptor in human prostate cells to demethylate mono-methyl and di-methyl histone H3 at Lys9 and facilitate androgen receptor-dependent transcriptional activation (8). Therefore, depending on gene context LSD1 can function as either a transcriptional co-repressor or co-activator. LSD1 activity is inhibited by the amine oxidase inhibitors pargyline, deprenyl, clorgyline and tranylcypromine (8).
LSD1 is phosphorylated by CK2 at Ser131, Ser137, and Ser166 (9). Phosphorylation of LSD1 at Ser131 and Ser137 has been shown to help facilitate RNF168-dependent recruitment to sites of DNA damage (9).
Tween is a registered trademark of ICI Americas, Inc.
Cell Signaling Technology is a trademark of Cell Signaling Technology, Inc.