#3519 Phospho-Keratin 17 (Ser44) Antibody
| | | | | |
| --- | --- | --- | --- | --- |
| #3519S | 100 μL | 67,000 | | |
感度
分子量 (kDa)
抗体の由来
貯法
内在性
49
Rabbit
-20℃
ウェスタンブロッティング (1:1000)、フローサイトメトリー (1:50)
特異性・感度
内在性レベルのSer44 がリン酸化されたKeratin 17 タンパク質を検出します。
使用抗原
ヒトのKeratin 17 タンパク質のSer44 周辺領域 (合成リン酸化ペプチド)
ホモロジー (相同性) 検索をご希望の場合 >>>
ホモロジー検索をご要望の際は、ご希望のサンプル種のアミノ酸配列とともにお問合せください。
※下記の社内データは、すべて3519 の推奨プロトコールで実験した結果です。
Western Blotting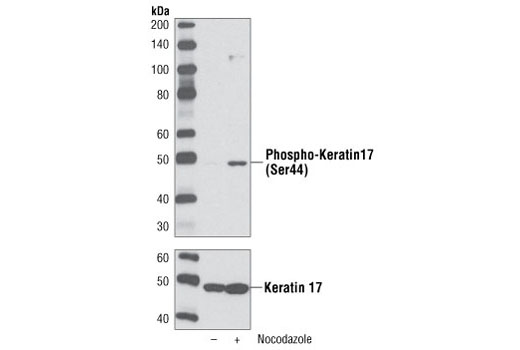 Western blot analysis of extracts of HeLa cells, either untreated or treated with nocodazole, using Phospho-Keratin 17 (Ser44) Antibody (upper) or Keratin 17 #3984 (lower).
Keratins (cytokeratins) are intermediate filament proteins that are mainly expressed in epithelial cells. Keratin heterodimers composed of an acidic keratin (or type I keratin, keratins 9 to 23) and a basic keratin (or type II keratin, keratins 1 to 8) assemble to form filaments (1,2). Keratin isoforms demonstrate tissue- and differentiation-specific profiles that make them useful as research biomarkers (1). Research studies have shown that mutations in keratin genes are associated with skin disorders, liver and pancreatic diseases, and inflammatory intestinal diseases (3-6).
Keratin 17 has been shown to be involved in wound healing, a process that requires rapid remodelling of the cytoskeleton (7). Another process that requires cytoskeletal remodelling is cell growth. It has been shown that in keratin 17 null keratinocytes that signaling through the Akt/mTOR pathway fails to produce an increase in translation, cell size or growth, and that this defect is associated with abnormal localization of 14-3-3σ. Since in normal cells, 14-3-3σ associates with keratin 17, a model has been proposed whereby signaling through Akt/mTOR produces a sequestration of 14-3-3σ in the cytosol via its interaction with keratin 17, and this sequestration by keratin 17 is required for translation and cell growth. Phosphorylation of keratin 17 on Ser 44 is thought to provide a docking site for 14-3-3σ binding (8).
Cell Signaling Technology is a trademark of Cell Signaling Technology, Inc.