#3471 Phospho-FGF Receptor (Tyr653/654) Antibody
| | | | | |
| --- | --- | --- | --- | --- |
| #3471S | 100 μL | 66,000 | | |
感度
分子量 (kDa)
抗体の由来
貯法
内在性
120, 145
Rabbit
-20℃
特異性・感度
Phospho-FGF Receptor (Tyr653/654) Antibody detects endogenous levels of FGF receptors only when phosphorylated at tyrosines 653/654. This antibody detects phosphorylated FGF Receptors 2 and 4 when expressed exogenously. Based on sequence comparisons, reactivity with FGF Receptor 3 is possible but has not been experimentally confirmed. This antibody also cross-reacts with activated PDGF receptor and insulin/IGF-I receptors.
使用抗原
Polyclonal antibodies are produced by immunizing animals with a synthetic peptide corresponding to residues surrounding Tyr653/654 of human FGFR-1 (the corresponding sequence is the same in FGFR-2, -3 and -4). Antibodies are purified by protein A and peptide affinity chromatography.
ホモロジー (相同性) 検索をご希望の場合 >>>
ホモロジー検索をご要望の際は、ご希望のサンプル種のアミノ酸配列とともにお問合せください。
※下記の社内データは、すべて3471 の推奨プロトコールで実験した結果です。
Western Blotting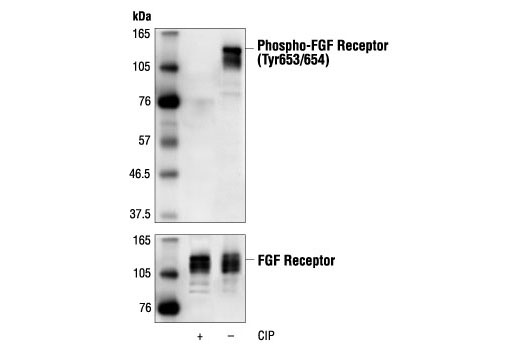 Western blot analysis of extracts from 293 cells overexpressing human FGFR-1, untreated or calf intestinal phosphatase (CIP)-treated, using Phospho-FGF Receptor (Tyr653/654) Antibody (upper) or FGF Receptor 1 Antibody #3472 (lower). Overexpression of human FGFR-1 protein in 293 cells results in constitutive activation of the receptors (courtesy of Dr. Pamela Maher, personal communication). CIP treatment abolishes the reactivity of this antibody to FGFR-1.
Fibroblast growth factors (FGFs) produce mitogenic and angiogenic effects in target cells by signaling through cell surface receptor tyrosine kinases. There are four members of the FGF receptor family: FGFR1 (flg), FGFR2 (bek, KGFR), FGFR3, and FGFR4. Each receptor contains an extracellular ligand binding domain, a transmembrane domain, and a cytoplasmic kinase domain (1). Following ligand binding and dimerization, the receptors are phosphorylated at specific tyrosine residues (2). Seven tyrosine residues in the cytoplasmic tail of FGFR1 can be phosphorylated: Tyr463, 583, 585, 653, 654, 730, and 766. Tyr653 and Tyr654 are important for catalytic activity of activated FGFR and are essential for signaling (3). The other phosphorylated tyrosine residues may provide docking sites for downstream signaling components such as Crk and PLCγ (4,5).
Cell Signaling Technology is a trademark of Cell Signaling Technology, Inc.