#3463 Phospho-FLT3 (Tyr969) (C24D9) Rabbit mAb
| | | | | |
| --- | --- | --- | --- | --- |
| #3463S | 100 μL | 66,000 | | |
感度
分子量 (kDa)
抗体の由来
貯法
内在性
160
Rabbit IgG
-20℃
特異性・感度
Tyr969 がリン酸化された内在性レベルのFLT3 タンパク質を検出します。他のチロシンリン酸化タンパク質とも交差する可能性があります。
使用抗原
ヒトのFLT3 タンパク質のTyr969 周辺の配列 (合成リン酸化ペプチド)
ホモロジー (相同性) 検索をご希望の場合 >>>
ホモロジー検索をご要望の際は、ご希望のサンプル種のアミノ酸配列とともにお問合せください。
※下記の社内データは、すべて3463 の推奨プロトコールで実験した結果です。
Western Blotting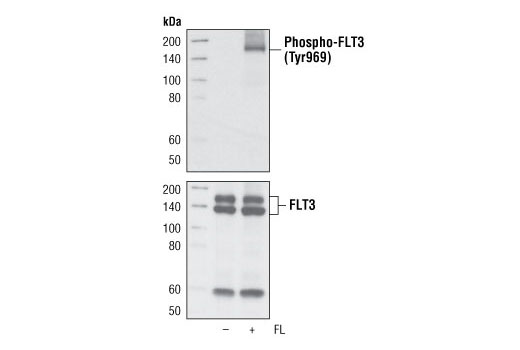 Western blot analysis of cell extracts from Baf3/FLT3 cells, untreated or treated with FLT3 ligand (FL), using Phospho-FLT3 (Tyr969) (C24D9) Rabbit mAb (upper) or FLT3 (8F2) Rabbit mAb Antibody #3462 (lower).
FMS-related tyrosine kinase 3 (FLT3, also called Flk2), is a member of the type III receptor tyrosine kinase family, which includes c-Kit, PDGFR and M-CSF receptors. FLT3 is expressed on early hematopoietic progenitor cells and supports growth and differentiation within the hematopoietic system (1,2). FLT3 is activated after binding with its ligand FL, which results in a cascade of tyrosine autophosphorylation and tyrosine phosphorylation of downstream targets (3). The p85 subunit of PI3 kinase, SHP2, GRB2 and Shc are associated with FLT3 after FL stimulation (4-6). Tyr589/591 is located in the juxtamembrane region of FLT3 and may play an important role in regulation of FLT3 tyrosine kinase activity. Somatic mutations of FLT3 consisting of internal tandem duplications (ITDs) occur in 20% of patients with acute myeloid leukemia (7).
Phospho-FLT3 (Tyr969) (C24D9) Rabbit mAb is directed against a previously unpublished FLT3 tyrosine phosphorylation site at Tyr969 that was identified at Cell Signaling Technology (CST) using PhosphoScan®, CST's MS/MS platform for phosphorylation site discovery. Phosphorylation of FLT3 at Tyr969 was observed in various leukemia, lymphoma and carcinoma cell lines and in tumors.
Cell Signaling Technology is a trademark of Cell Signaling Technology, Inc.
U.S. Patent No. 7,429,487, foreign equivalents, and child patents deriving therefrom.