#3434 Hydroxy-HIF-1α (Pro564) (D43B5) XP® Rabbit mAb
CSTコード
包装

希望納入価格 (円)

ご登録代理店情報

カスタマー情報にご登録いただいた代理店を表示しています。

ご登録代理店の変更は

こちら

。

#3434S
100 μL
72,000
#3434T
20 μL
39,000


Custom Antibody Sampler Kitの構成品を選択できます。
5本以上を選択し、ページ右上のCartから製品確定書を発行してください。
尚、構成品の単品販売は致しておりません。
HIF1A 製品一覧 | #3434 が入っているAntibody Sampler キット一覧
感度
分子量 (kDa)
抗体の由来
貯法
内在性
120
Rabbit IgG
-20℃
| 種交差性 (社内試験済) | |
| --- | --- |
| ヒト、サル | マウス、ラット、サル、ニワトリ、アフリカツメガエル、ゼブラフィッシュ、ブタ |
ウェスタンブロッティング (1:1000)、免疫沈降 (1:50)、免疫蛍光細胞染色 (IF-IC) (1:6400)
特異性・感度
内在性レベルのPro564 が水酸化されたHIF-1αタンパク質を検出します。他の過剰発現したプロリン水酸化タンパク質と交差反応する可能性があります。
使用抗原
ヒトのHIF-1αタンパク質のPro564 周辺領域 (合成水酸化ペプチド)
ホモロジー (相同性) 検索をご希望の場合 >>>
ホモロジー検索をご要望の際は、ご希望のサンプル種のアミノ酸配列とともにお問合せください。
※下記の社内データは、すべて3434 の推奨プロトコールで実験した結果です。
Western Blotting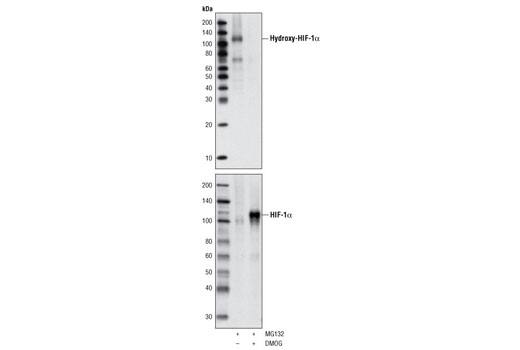 Western blot analysis of extracts from HeLa cells, treated with either 10 μM of MG132 (to accumulate hydroxylated HIF-1α) or 10 µM MG132 and 1 mM DMOG (to accumulate nonhyroxylated HIF-1α), using Hydroxy-HIF-1α (Pro564) (D43B5) XP® Rabbit mAb (upper) or total HIF-1α Antibody #3716 (lower).
Hypoxia-inducible factor 1 (HIF1) is a heterodimeric transcription factor that plays a critical role in the cellular response to hypoxia (1). The HIF1 complex consists of two subunits, HIF-1α and HIF-1β, which are basic helix-loop-helix proteins of the PAS (Per, ARNT, Sim) family (2). HIF1 regulates the transcription of a broad range of genes that facilitate responses to the hypoxic environment, including genes regulating angiogenesis, erythropoiesis, cell cycle, metabolism, and apoptosis. The widely expressed HIF-1α is typically degraded rapidly in normoxic cells by the ubiquitin/proteasomal pathway. Under normoxic conditions, HIF-1α is proline hydroxylated leading to a conformational change that promotes binding to the von Hippel Lindau protein (VHL) E3 ligase complex; ubiquitination and proteasomal degradation follows (3,4). Both hypoxic conditions and chemical hydroxylase inhibitors (such as desferrioxamine and cobalt) inhibit HIF-1α degradation and lead to its stabilization. In addition, HIF-1α can be induced in an oxygen-independent manner by various cytokines through the PI3K-AKT-mTOR pathway (5-7).
HIF-1β is also known as AhR nuclear translocator (ARNT) due to its ability to partner with the aryl hydrocarbon receptor (AhR) to form a heterodimeric transcription factor complex (8). Together with AhR, HIF-1β plays an important role in xenobiotics metabolism (8). In addition, a chromosomal translocation leading to a TEL-ARNT fusion protein is associated with acute myeloblastic leukemia (9). Studies also found that ARNT/HIF-1β expression levels decrease significantly in pancreatic islets from patients with type 2 diabetes, suggesting that HIF-1β plays an important role in pancreatic β-cell function (10).
Two critical prolines in HIF-1α (Pro564 and Pro402) can be hydroxylated by proline hydroxylase under normoxia conditions. Hydroxylation of HIF-1α leads to its binding to VHL and ubiquitin mediated degradation (3,11,12).
MultiMab is a trademark of Cell Signaling Technology, Inc.
XP is a registered trademark of Cell Signaling Technology, Inc.
Cell Signaling Technology is a trademark of Cell Signaling Technology, Inc.