#3417 CTCF (D1A7) XP® Rabbit mAb
| | | | | |
| --- | --- | --- | --- | --- |
| #3417S | 100 μL | 61,000 | | |
感度
分子量 (kDa)
抗体の由来
貯法
内在性
140
Rabbit IgG
-20℃
| 種交差性 (社内試験済) | |
| --- | --- |
| ヒト、ラット、サル | ウシ |
ウェスタンブロッティング (1:1000)、免疫沈降 (1:50)、免疫蛍光細胞染色 (IF-IC) (1:100)、クロマチン免疫沈降 (1:50)
特異性・感度
内在性レベルのCTCF タンパク質を検出します。BORIS タンパク質とは交差しません。
使用抗原
ヒトのCTCF タンパク質由来の配列 (合成ペプチド)
ホモロジー (相同性) 検索をご希望の場合 >>>
ホモロジー検索をご要望の際は、ご希望のサンプル種のアミノ酸配列とともにお問合せください。
※下記の社内データは、すべて3417 の推奨プロトコールで実験した結果です。
Western Blotting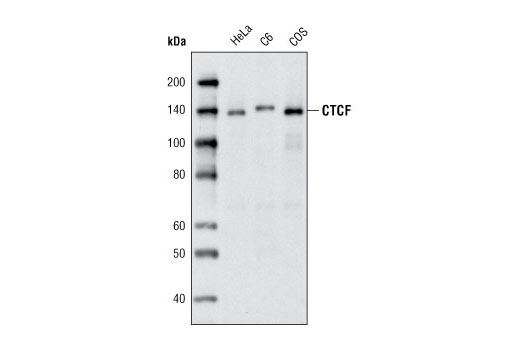 Western blot analysis of extracts from various cell lines using CTCF (D1A7) XP® Rabbit mAb.
IF-IC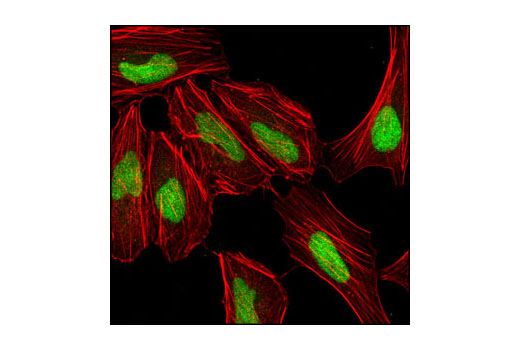 Confocal immunofluorescent analysis of HeLa cells using CTCF (D1A7) XP® Rabbit mAb (green). Actin filaments are labeled with DY-554 phalloidin (red).
Chromatin IP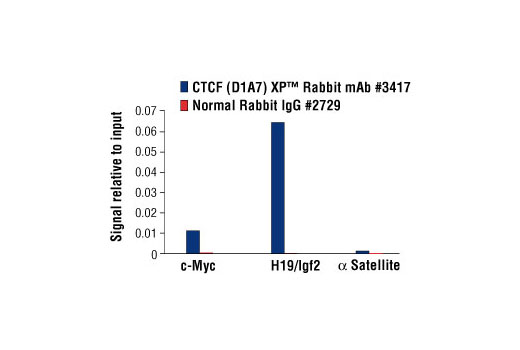 Chromatin immunoprecipitations were performed with cross-linked chromatin from HeLa cells and either CTCF (D1A7) XP® Rabbit mAb or Normal Rabbit IgG #2729 using SimpleChIP® Enzymatic Chromatin IP Kit (Magnetic Beads) #9003. The enriched DNA was quantified by real-time PCR using human c-Myc promoter primers, SimpleChIP® Human H19/Igf2 ICR Primers #5172, and SimpleChIP® Human α Satellite Repeat Primers #4486. The amount of immunoprecipitated DNA in each sample is represented as signal relative to the total amount of input chromatin, which is equivalent to one.
CCCTC-binding factor (CTCF) and its paralog, the Brother of the Regulator of Imprinted Sites (BORIS), are highly conserved transcription factors that regulate transcriptional activation and repression, insulator function, and imprinting control regions (ICRs) (1-4). Although they have divergent amino and carboxy termini, both proteins contain 11 conserved zinc finger domains that work in combination to bind the same DNA elements (1). CTCF is ubiquitously expressed and contributes to transcriptional regulation of cell-growth regulated genes, including c-myc, p19/ARF, p16/INK4A, BRCA1, p53, p27, E2F1, and TERT (1). CTCF also binds to and is required for the enhancer-blocking activity of all known insulator elements and ICRs, including the H19/IgF2, Prader-Willi/Angelman syndrome, and Inactive X-Specific Transcript (XIST) anti-sense loci (5-7). CTCF DNA-binding is sensitive to DNA methylation, a mark that determines selection of the imprinted allele (maternal vs. paternal) (1). The various functions of CTCF are regulated by at least two different post-translational modifications. Poly(ADP-ribosyl)ation of CTCF is required for insulator function (8). Phosphorylation of Ser612 by protein kinase CK2 facilitates a switch of CTCF from a transcriptional repressor to an activator at the c-myc promoter (9). CTCF mutations or deletions have been found in many breast, prostate, and Wilms tumors (10,11). Expression of BORIS is restricted to spermatocytes and is mutually exclusive of CTCF (3). In cells expressing BORIS, promoters of X-linked cancer-testis antigens like MAGE-1A are demethylated and activated, but methylated and inactive in CTCF-expressing somatic cells (12). Like other testis specific proteins, BORIS is abnormally expressed in different cancers, such as breast cancer, and has a greater affinity than CTCF for DNA binding sites, detracting from CTCF's potential tumor suppressing activity (1,3,13,14).
XP is a registered trademark of Cell Signaling Technology, Inc.
Cell Signaling Technology is a trademark of Cell Signaling Technology, Inc.