#3416 IKKε (D61F9) XP® Rabbit mAb
CSTコード
包装

希望納入価格 (円)

ご登録代理店情報

カスタマー情報にご登録いただいた代理店を表示しています。

ご登録代理店の変更は

こちら

。

#3416S
100 μL
61,000
#3416T
20 μL
39,000


Custom Antibody Sampler Kitの構成品を選択できます。
5本以上を選択し、ページ右上のCartから製品確定書を発行してください。
尚、構成品の単品販売は致しておりません。
IKKEPSILON 製品一覧 | #3416 が入っているAntibody Sampler キット一覧
感度
分子量 (kDa)
抗体の由来
貯法
内在性
80
Rabbit IgG
-20℃
ウェスタンブロッティング (1:1000)、免疫沈降 (1:100)、免疫蛍光細胞染色 (IF-IC) (1:100)、フローサイトメトリー (1:200)
特異性・感度
内在性レベルのIKKε タンパク質を検出します。
使用抗原
マウスのIKKε タンパク質のC末端近傍領域 (合成ペプチド)
ホモロジー (相同性) 検索をご希望の場合 >>>
ホモロジー検索をご要望の際は、ご希望のサンプル種のアミノ酸配列とともにお問合せください。
※下記の社内データは、すべて3416 の推奨プロトコールで実験した結果です。
Western Blotting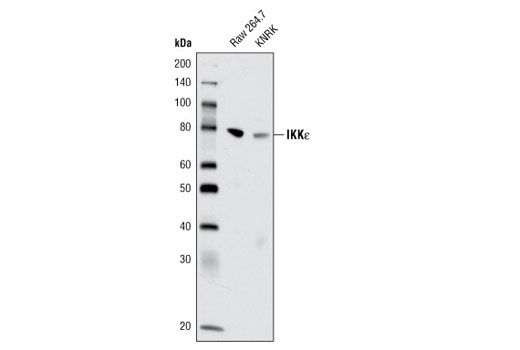 Western blot analysis of extracts from Raw 264.7 and KNRK cell lines using IKKε (D61F9) XP® Rabbit mAb.
IF-IC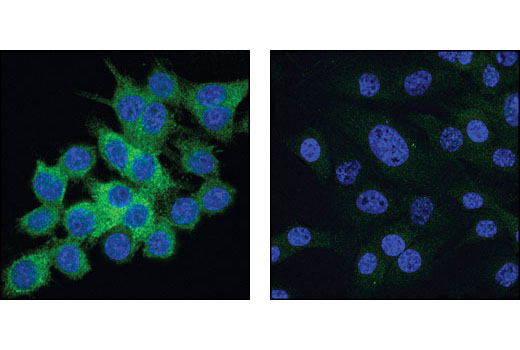 Confocal immunofluorescent analysis of RAW 264.7 (left) and C2C12 (right) cells using IKKepsilon (D61F9) XP® Rabbit mAb (green). Blue pseudocolor = DRAQ5® (fluorescent DNA dye).
Flow Cytometry
Flow cytometric analysis of Raw 264.7 cells using IKKε (D61F9) XP® Rabbit mAb (blue) compared to concentration matched Rabbit (DA1E) mAb IgG XP® Isotype Control #3900 (red). Anti-rabbit IgG (H+L), F(ab')2 Fragment (Alexa Fluor® 488 Conjugate) #4412 was used as a secondary antibody.
The NF-κB/Rel transcription factors are present in the cytosol in an inactive state, complexed with the inhibitory IκB proteins (1-3). Most agents that activate NF-κB do so through a common pathway based on phosphorylation-induced, proteasome-mediated degradation of IκB (3-7). The key regulatory step in this pathway involves activation of a high molecular weight IκB kinase (IKK) complex whose catalysis is generally carried out by three tightly associated IKK subunits. IKKα and IKKβ serve as the catalytic subunits of the kinase and IKKγ serves as the regulatory subunit (8,9). Activation of IKK depends upon phosphorylation at Ser177 and Ser181 in the activation loop of IKKβ (Ser176 and Ser180 in IKKα), which causes conformational changes, resulting in kinase activation (10-13).
Recently, two homologs of IKKα and IKKβ have been described, called IKKε (also known as IKK-i) and TBK-1 (also known as T2K or NAK), and activation of either of these kinases results in NF-κB activation. IKKε contains the kinase domain in its amino terminus, which shares 30% identity to that of IKKα or IKKβ. IKKε is expressed mainly in immune cells, and may play a special role in the immune response (14-18).
DRAQ5 is a registered trademark of Biostatus Limited.
XP is a registered trademark of Cell Signaling Technology, Inc.
Cell Signaling Technology is a trademark of Cell Signaling Technology, Inc.