#3399 Phospho-M-CSF Receptor (Tyr699) Antibody
| | | | | |
| --- | --- | --- | --- | --- |
| #3399S | 100 μL | 67,000 | | |
感度
分子量 (kDa)
抗体の由来
貯法
内在性
175
Rabbit
-20℃
特異性・感度
内在性レベルのTyr699 がリン酸化されたM-CSF Receptor タンパク質を検出します。PDGF Receptor タンパク質などの他の活性型チロシンキナーゼとわずかに交差反応する可能性があります。
使用抗原
ヒトのM-CSF Receptor タンパク質のTyr699 周辺領域 (合成リン酸化ペプチド)
ホモロジー (相同性) 検索をご希望の場合 >>>
ホモロジー検索をご要望の際は、ご希望のサンプル種のアミノ酸配列とともにお問合せください。
※下記の社内データは、すべて3399 の推奨プロトコールで実験した結果です。
Western Blotting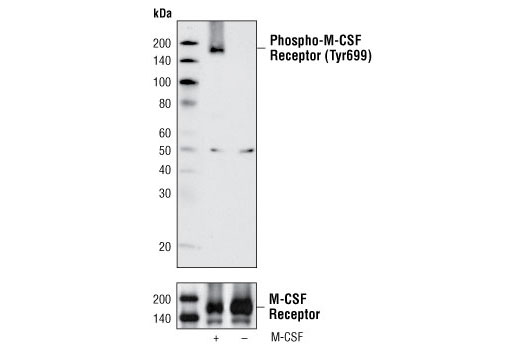 Western blot analysis of extracts from FDCP1/fms cells, untreated or M-CSF treated, using Phospho-M-CSF Receptor (Tyr699) Antibody (upper) or M-CSF Receptor Antibody #3152 (lower).
Macrophage-colony stimulating factor (M-CSF, CSF-1) receptor is an integral membrane tyrosine kinase encoded by the c-fms proto-oncogene. M-CSF receptor is expressed in monocytes (macrophages and their progenitors) and drives growth and development of this blood cell lineage. (1-3). Binding of M-CSF to its receptor induces receptor dimerization, activation, and autophosphorylation of cytoplasmic tyrosine residues used as docking sites for SH2-containing signaling proteins (4). There are at least five major tyrosine autophosphorylation sites. Tyr723 (Tyr721 in mouse) is located in the kinase insert (KI) region. Phosphorylated Tyr723 binds the p85 subunit of PI3 kinase as well as PLCγ2 (5). Phosphorylation of Tyr809 provides a docking site for Shc (5). Overactivation of this receptor can lead to a malignant phenotype in various cell systems (6). The activated M-CSF receptor has been shown to be a predictor of poor outcome in advanced epithelial ovarian carcinoma (7) and breast cancer (8).
Phosphorylation of M-CSF receptor on Tyr669 was identified at Cell Signaling Technology (CST) using PhosphoScan®, CST's LC-MS/MS platform for phosphorylation site discovery, as well as in another publication (10). Autophosphorylation at Tyr699 in the kinase insert (KI) domain appears to provide a binding site for the Grb2 adaptor protein (9).
Cell Signaling Technology is a trademark of Cell Signaling Technology, Inc.